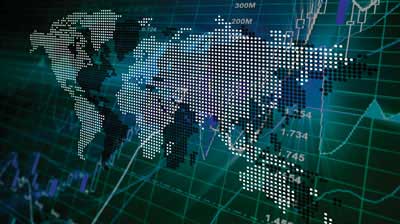 There are plenty of worries about the global economy, but China is becoming less of a concern, as domestic numbers are starting to look up, notes Jim Trippon of China Stock Digest.
After the tantalizing improvement in China's economy signaled by September's numbers, the good news for China continued.
October's numbers showed a further rise in economic activity, as the country begins to emerge from what had been a persistent slowing of growth. Improvements in infrastructure investment and factory output were indicators of the beginning of an economic recovery gaining traction, as factory output was the strongest in nearly half a year.
One of the key areas of China's economy, the hard-hit export trade, saw the second straight month of encouraging growth, as exports grew by 11%. This followed a surprisingly strong reading in September, when exports increased by 9.9%.
The all-important export trade accounts for about one-third or more of China's economy. Many analysts were unsure as to whether the rise in September's export trade would be followed by a strong October.
China's economy has been an export-driven economy for years, and its economic slowdown was initiated by the weak export trade with its main partner, the Eurozone countries. China had been trying to diversify its trade more to the US and the rest of Asia, including other emerging markets.
China's Commerce Minister Chen Deming was quoted in a Reuters article as being cautious on the data, however, as he termed the recovery "mild," and added that the 10% target for full year exports would be difficult to achieve.
Other Strong Data
Industrial production for the month of October grew at a 9.6% rate, while retail sales grew 14.5%. Fixed asset investment spending increased 20.7% for the first ten months of the year, though the growth of new projects started is in the 30%-plus range in the last couple of months.
Fixed asset investment, which had been responsible for about half of GDP growth this year, was expected to continue to be strong due to the government's fast tracking $157 billion in infrastructure and construction projects announced in the early fall. Industrial production growth had been lagging, and the consumer, viewed as an especially critical component in the economy by Beijing when the export trade was lagging, showed renewed strength.