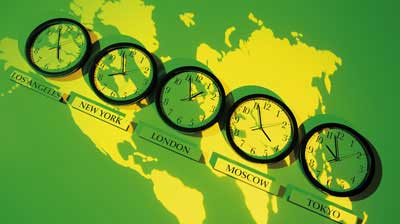 In America, we are still busy trying to figure out how to get banks to begin opening up their pocketbooks again—and what a lot of confusing bureaucratic acronyms mean.
First, there was the $700-billion TARP (Troubled Assets Relief Program), designed to bail out problem banks. Then the $200-billion TALF (Term Asset-Backed Securities Loan Facility), which offers low-interest loans for investors to purchase AAA-rated securities backed by new consumer and small business loans.
Sorry—no acronym yet—but I sure hope this crisis is solved before we go through the entire alphabet!
Meanwhile, governments and central banks around the world continue to keep the cash flowing. The Bank of England says it has spent almost £2 billion in the effort to persuade banks to lend—part of the bank's recently announced £75-billion program of asset purchases. The UK media call this latest stimulus "printing money." But since the major interest rate cuts haven't produced the hoped-for recovery, the government seems to be running out of options to stem the recessionary tide.
And the international economic news continues to worsen. Industrial orders in Germany plummeted by 8% in January—much higher than the 2.4% expected. The government is estimating that the German economy will contract at least 2.25% this year, but analysts' forecasts are bleaker—around 4%.
Not surprisingly, there were announcements of more layoffs—1,900 at auto parts group Continental (Frankfurt: AOXFTR), and 18,000 at Daimler (NYSE: DAI; Xetra: 710000). Toyota (NYSE: TM) also announced it will cut working hours and pay by 10% at its UK plants.
Meanwhile, Swiss bank UBS (NYSE: UBS) increased its estimated 2008 loss to 20.9 billion Swiss francs ($18.06 billion).
Japan's economy just keeps sinking: Core private-sector machinery orders fell 3.2% in January from December, slightly better than the 4.5% forecast. And China reported that exports fell by 25.7% and imports by 24.1% in February from a year earlier, causing its trade surplus to tumble. According to Bloomberg, the "experts" had called for a 1% drop in exports and a 22.5% decline in imports.
China's Nanfang Daily newspaper also reported that since October, sagging exports forced 20,000 small- and medium-sized companies in prosperous Guangdong province to close, boosting unemployment by two million.
And while Tuesday's market rally gave investors a big boost, Wednesday's results weren't quite so stellar. After a 4.9% rally on Tuesday, the FTSE 100 closed down 0.6%, but European shares fared better, up 0.2% on Wednesday, and the Nikkei 225 rose 4.6%.
And the Dow Jones Industrial Average barely gained at all: It closed up a mere three points Wednesday.
But there is some good news! Rep. Barney Frank (D-Mass.), chairman of the House Financial Services Committee, indicated that the SEC might reinstate the "uptick rule," which limits short selling in stocks. That may help reduce volatility—and it contributed to Tuesday's rally
That rally has prompted more speculation that we may be near a market bottom—finally. This week, our advisors are looking mostly towards Asia
Jesper Madsen, lead manager of Matthews Asia Pacific Equity Fund, shared his interesting take on Asian dividend-paying stocks.