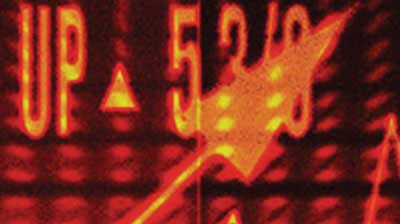 Overall, we could have a bright year, if we're willing to be cautious where some have been greedy, writes MoneyShow's Howard R. Gold, also of The Independent Agenda.
It's that time again when pundits and guru wannabes of all stripes say how they think 2013 will turn out for the economy and markets. Here are my four best predictions, along with one big wild card.
1. The US economy will continue to grow, albeit slowly, in 2013.
Now that we've avoided the fiscal cliff by permanently preserving the Bush tax cuts for 98% of the American people, I believe a Washington, DC-induced US recession is unlikely.
The expiration of the payroll tax holiday and the $100 billion in automatic spending cuts from the notorious "sequester," along with any additional changes in the tax code to raise revenue, might knock as much as 1.5% off GDP this year. With economists looking for 2.3% growth in 2013, that could mean GDP rises less than 1%, especially early in the year.
But Federal Reserve chairman Ben Bernanke's aggressive bond-buying program will keep interest rates at rock-bottom lows and support the continuing recovery in housing, which I think is real. It will also help offset the lingering effects of the various fiscal hurdles we'll have to scale this year.
As 2013 advances, business's uncertainty will ease somewhat, which will help the economy and market do better later in the year (see below).
2. The worst of the Eurozone's debt crisis is over.
Yes, Greece is a mess, and Spain and Italy are deep in the doldrums, cursed by high unemployment and economic and political stagnation, respectively. And the Eurozone is in a mild double-dip recession.
But European Central Bank president Mario Draghi has vowed to do "whatever it takes" to save the euro by preventing major countries from defaulting on their debt, and he announced an asset-purchase plan backed up by the ECB's $3-trillion-plus balance sheet.
Not that there won't be flare-ups from time to time, but I think Europe is more likely to take markets down by, say, the 8% by which they fell in 2012 than the 16% and 20% they tumbled in 2010 and 2011.
And once we get past the German election this fall, Chancellor Angela Merkel will have more leeway to consider broader solutions rather than stalling and kicking the can down the road. (Sound familiar?)
3. US stocks will rise, but not as much as in 2012.
The S&P 500 index gained 16% with dividends reinvested last year, while the Russell 2000 and MidCap indexes and the Dow Jones US Total Stock Market index did roughly the same.
I don't expect a repeat this year, for a couple of reasons. First, the continuing fiscal debate in Washington, which now shifts to spending cuts and the debt limit, has been a downer in the past. Once we get into the thick of it again, traders won't be throwing confetti on the floor of the New York Stock Exchange.
NEXT: Seasonal Weakness for Stocks