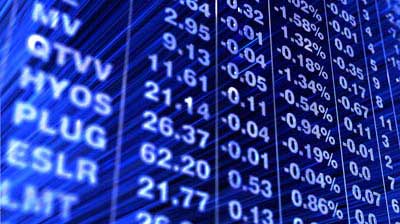 Shrinking margins and more effective competition are just two links in the chain pulling the tech giant back to earth, writes MoneyShow's Howard R. Gold, also of The Independent Agenda.
Last September was a great time to be an Apple (AAPL) shareholder. The stock topped $700, capping a remarkable run in which the shares practically doubled since July 2011.
Even more extraordinary, much of Apple's huge advance came after the death in October 2011 of its founding genius, Steve Jobs. Nothing could stop this juggernaut, it seemed.
It's been downhill ever since. From its closing peak of $702.10, Apple shares plunged by 37.4% as of last Friday, when it closed at $439.88. It's bounced back a bit, but when the world's most valuable company loses that much in just four months, something must be seriously wrong.
It is. Apple's competitive position has seriously weakened, and investors are recalibrating their outlooks. Tailwinds have turned into headwinds as tangible and intangible issues alike weigh heavily on the shares.
Apple has lost the mantle of the greatest growth stock of our era; it may no longer be a growth stock at all. (The company said executives were not available for interviews.)
Here are four reasons why I don't think Apple's stock will see $700 again:
1. Growth in phones is slowing as competition increases.
The iPhone is by far Apple's largest product, comprising more than 56% of total revenue in the first quarter of fiscal 2013. The 47.8 million phones sold, including the new iPhone 5, represent nearly a 30% year-over-year gain in units sold.
Sounds great, but growth has decelerated dramatically, from well over 100% year over year in the third quarter of fiscal 2011.
Peter Misek, an analyst at Jefferies & Company, who downgraded Apple to Hold last week, told me the smartphone market "has matured" and is "saturated." He expects global smartphone sales to grow by 17% this year. That's down from 60% or more in 2011. Apple's chief rival, Samsung, also warned that the market is slowing.
Meanwhile, Samsung is gaining ground. While Apple's share of the global smartphone market slipped a percentage point to 22% in 2012's fourth quarter, according to IDC Worldwide, Samsung picked up a whopping six percentage points. It now leads the pack with a 29% share.
2. Margins are shrinking.
For smartphones, the big growth is in emerging markets, where Samsung and other suppliers using Google's (GOOG) Android operating system are eating Apple's lunch. That's one reason Apple is reportedly working on a cheaper phone, maybe priced at $99 to $149, for emerging markets. The company hasn't confirmed that.
And only half the iPhones sold by Verizon (VZ) here in the US in the fourth quarter were iPhone 5s, as customers bought older, deeply discounted models. (Unlike the iPad, iPhones are subsidized by wireless carriers, so customers pay a fraction of their true price.)
On Wednesday, Verizon's Web site featured the iPhone 5 for $199.99, the 4S for $99 and the 4 for...free.
And the new iPad Mini may be cannibalizing sales of the larger iPad, lowering the average selling price by $101.
NEXT: Losing its Innovative Edge?