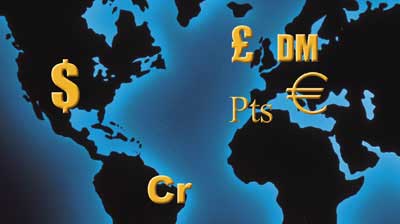 As the fiscal cliff gets closer and closer, the markets get more nervous with each passing day. Here, Tyler Yell of DailyFX.com, suggests strategies for trading specific currency pairs.
When markets drop, they drop fast. It's a common tale of trading that a trading instrument can take weeks or months to build up to a certain level yet drop and leave behind the gains fought for in a number of days. As a trader, you must be proficient in taking advantage of down moves and this article will share with you the currencies to keep your eyes on if the US economy goes over the fiscal cliff and way to trade them.
Over the last four years, we've found ourselves in a crisis management environment that continues to drag EUR/USD and other major pairs lower. This is a result of traders and institutions running into the US dollar via Treasuries. US Treasuries are seen as the safest financial instrument in the world.

(Created Using FXCM's Marketscope 2.0 charts)
Click to Enlarge
This weekly chart shows a down trend that started with the global credit crisis in 2008 only to be followed by the sovereign debt crises coming to head with many key European economies. With more bad news coming out and the dark cloud of the US fiscal cliff looming overheard, more traders could make a run for US Treasuries and out of the European economy, which could bring us down another leg. The US fiscal cliff is a series of tax cuts that are set to expire on January 1, 2013, and would almost certainly drop the US into another recession as annual GDP would be cut by a predicted 2-4%.
Many traders may think they should sell the US dollar because that is ground zero of the fiscal cliff crisis. However, if you look back to fall 2008 you see that even though the credit crises began in the US, the USD still rose sharply against the EUR because risk appetite evaporated. Risk appetite is the environment in which traders and institutions see rising markets and "blue skies" ahead.
When risk appetite evaporates because of fear or uncertainty, traders and institutions start looking for the safest place to park their money, which in today's global economy is still seen as US Treasuries.
Therefore, when fears rise, the EUR/USD drops even if fear is around the US economy. It's important to note also that EUR/USD is not the only pair that drops when fear rises. The pairs that drop in crisis mode are often known as "risk-on" pairs. In a risk-off environment, these currencies drop and drop fast as you see above. If we're in a "risk-on" environment, the "risk-on" pairs rise nice and steadily.
Furthermore, you can look back over the last four years to see what happened to the "Risk-On" pairs against the USD when the credit crises emerged.
NEXT PAGE: Finding Strong Trade Setups
Tickers Mentioned: Tickers: EUR-USD