Has the Dollar Bottomed?
11/16/2010 3:52 pm EST
Focus: FOREX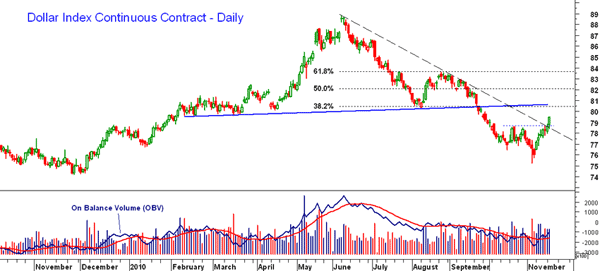 Click to Enlarge
The Dollar Index has moved through initial resistance at 78.50 as it is up sharply from the lows at 75.23. Though the Dollar Index could rally as high as the converging chart and retracement resistance in the 80.50 area, there are no signs yet that an intermediate-term low is in place. Volume was heavy on the last decline and the on-balance volume (OBV) did confirm the lows. This suggests that the rally is just an interruption in the overall downtrend.
Tom Aspray, professional trader and analyst, serves as video content editor for MoneyShow.com. The views expressed here are his own.