Just a Correction...or More?
11/17/2010 9:40 am EST
Focus: STRATEGIES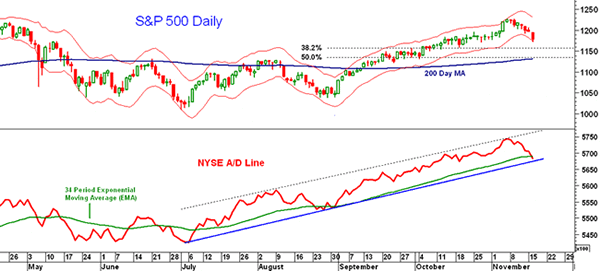 Click to Enlarge
The stock market's decline over the past seven days has been relentless with the heaviest selling seen on Tuesday. The S&P 500 tested the lower daily starc bands, indicating that it is a high-risk time to sell and that the market should stabilize for a few sessions if not rebound. The 38.2% support is just below 1160 with the 50% support and the 200-day moving average (MA) at 1132. The NYSE Advance/Decline (A/D) line, which is a cumulative total of advancing minus declining issues, has dropped below its 34-period exponential moving average (EMA) but is still holding its uptrend. Stocks should rebound over the next three to five days, and the strength of that rally will be important.
Tom Aspray, professional trader and analyst, serves as video content editor for MoneyShow.com. The views expressed here are his own.