Gold: Buy, Sell, or Hold?
11/18/2011 10:10 am EST
Focus: COMMODITIES
It looks like gold may be building a base for the next rally, although those who don't already own the metal may be best served by waiting a little longer.
The $54 decline in the February Comex Gold contract Thursday took the futures to two-week lows, while SPDR Gold Trust (GLD) lost 2.5%. The rather steep decline did not seem to drive headlines like it would have a few months ago.
Most analysts seem to be pointing to the drop in crude oil prices and firmer US dollar for gold's decline. Another factor may be the missing $600 million in MF Global customer funds, which has jarred the confidence of futures traders around the world.
This is offset by the recent report that the central banks are still wildly bullish on gold. They purchased 148.4 tons of gold in the third quarter, twice as much as they did in the second quarter.
The lack of reaction to gold's drop is what I would expect from a market that is in a consolidation phase. These are typically marked by sharp rallies and sharp declines. It has been almost three months since gold topped in early September, and many of those that were caught up in gold's powerful summer rally appear to have lost interest.
Apathy, of course, is what the gold market needs in order to form a base from which to launch its next rally. An increase in bearish sentiment would also help, but we may not get it. The long-term technical outlook does favor higher prices in 2012…but should you be buying, selling, or holding?
Chart Analysis: The weekly chart of the SPDR Gold Trust (GLD) shows that the drop in September tested the uptrend from the early 2011 lows, line a.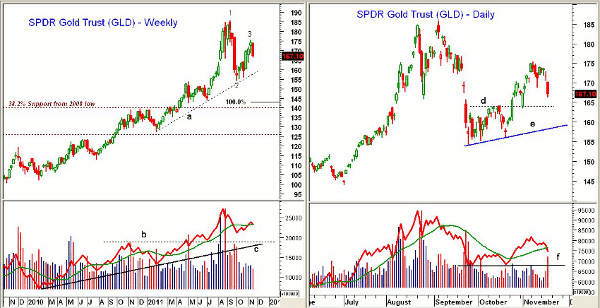 Click to Enlarge
The recent rally to point 3 exceeded the 61.8% Fibonacci retracement resistance, but has so far fallen short of the 78.6% retracement resistance at $179.20
The weekly on-balance volume (OBV) has turned down and could drop below its WMA this week, depending on Friday's close
A drop back to converging weekly OBV support, lines b and c, would not be surprising before the correction was complete
The next good weekly support is at $160, with more important levels at $154 and the late September lows
If these lows are broken, then the equality or 100% target is at $143. This is calculated by using the decline from point 1 to point 2 and then measuring down an equal amount from point 3
The daily chart of the SPDR Gold Trust (GLD) more clearly shows Thursday's decline with next support in the $164 to $163.60 area, line d.
The key support on the daily chart, line e, is now in the $158.40 area
Volume was high Thursday, as the OBV dropped below its WMA but it is still well above strong support at line f
There is initial resistance now at $170-$172, and then stronger levels at $175
NEXT: Long or Short?
|pagebreak|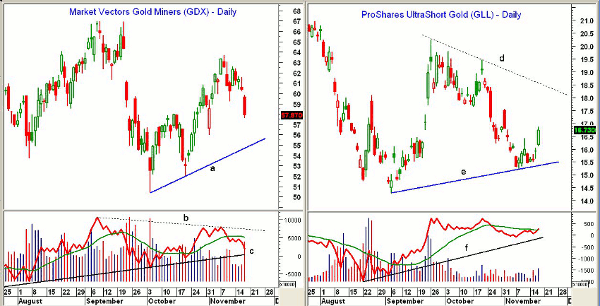 Click to Enlarge
The Market Vectors Gold Miners ETF (GDX) gapped lower Thursday, which creates strong resistance now in the $61 to $62.50 area.
There is key resistance now at $63.69,which needs to be overcome to reassert the uptrend
The daily OBV dropped below its WMA on November 9, and selling was quite heavy Thursday
The long-term OBV support is much lower at line c
There is next support at $56, with the daily uptrend (line a) now in the $54.80 area
Major support now sits at $50.40 to $51.10
The ProShares UltraShort Gold (GLL) is a double-inverse ETF that is tied to London's gold PM fix price. The daily chart shows a potential bottom formation with Thursday's gap higher.
The next major resistance is at $17.56 with the daily downtrend, line d, at $18.52
The daily OBV has been acting much stronger than prices as indicated by the uptrend, line f. It has just moved back above its WMA
There is initial support now for GLL at $16-$16.38 with further at $15.46
What it Means: About a month ago, I was looking for a decline in the December gold contract to the $1,500 area, but this now looks less likely. A drop back to and possible slightly below the September lows should be enough to complete the correction.
For those who are holding long-term core positions in gold, or a gold ETF, I would continue to hold. For those who are looking to buy, you should get a better opportunity before the end of the year.
Only short-term traders should look to trade the short side of gold using a an inverse ETF, and tight stops are recommended.
How To Profit: Short-term traders could buy ProShares UltraShort Gold (GLL) at $16.18 or better with a stop at $15.12 (risk of approx. 6.5%). Sell half at $17.48 and raise the stop on the remaining position to $16.09.