3 Preventable High-Yield Disasters
12/14/2011 10:50 am EST
Focus: STOCKS
Investors in search of high yields forgot to check the charts of these three dividend disasters, or they would've seen clear signals to stay out of the stocks at all cost.
For most of 2011, with Treasury yields so low, the search has been on for safe, sizable dividends. This explains why the SPDR Diamond Trust (DIA), which tracks the Dow Industrials, is up 4.3% while the Spyder Trust (SPY) is down 1.2%.
Of course, dividends are not included in these performance numbers, but the demand for the large-cap, high-yielding Dow stocks has been strong.
In many cases, those who went for the highest yields this year have fallen further behind because many high-yield stocks have dropped sharply in price.
Many dividend seekers don't use technical analysis as part of their decision-making process, but they should. If investors would have looked at major trend lines and levels of support, as discussed in "How to Get Started in Chart Reading," they may have stayed out of these three high-yield disasters.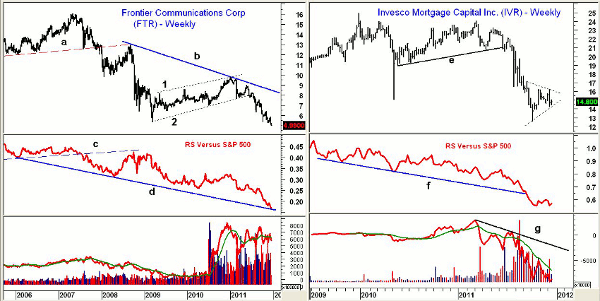 Click to Enlarge
Chart Analysis: Frontier Communications Corp. (FTR) is a $4.9 billion telecommunication company that currently yields 14.6%. At the end of 2010, FTR closed at $9.66, and with a dividend of $1.00, was yielding 10.3%, a figure that on the surface looked attractive. However, the stock is down 45.5% for the year.
The weekly chart shows a very long-term-negative pattern, as the rebound in 2008 just tested the former support (now resistance), line a, before turning lower
The long-term downtrend, line b, is clearly intact, and the two-year continuation pattern (lines 1 and 2) was just an interruption in the downtrend
The relative performance, or RS analysis, broke key support in 2007, line c, and has formed lower lows (line d) ever since
The stronger relative performance of the on-balance volume (OBV) likely reflects the high-yield buying frenzy this year
First resistance now stands at $5.60-$5.80 with further resistance at $6.40
Invesco Mortgage Capital Inc. (IVR) is a $1.7 billion mortgage investment company that currently yields 17.9%. It is down over 35% so far in 2011 and the weekly chart shows a short-term flag formation (dashed lines). This is likely a continuation pattern, which favors a further decline.
The Fibonacci targets from the flag formation are at $11.80 with further targets in the $9.60-$10 area (see "Using Fibonacci to Trade Flag Patterns")
The weekly chart shows that IVR completed its top formation in June when it closed below major support at line e
The RS line has been making lower lows since 2009 (line f), indicating it was underperforming the S&P 500. It dropped sharply this fall
The weekly OBV dropped sharply in March and shows a well-established downtrend, line g
Short-term resistance now stands at $16.20 with key support at $14.20
NEXT: Popular Income Stock That Really Tanked
|pagebreak|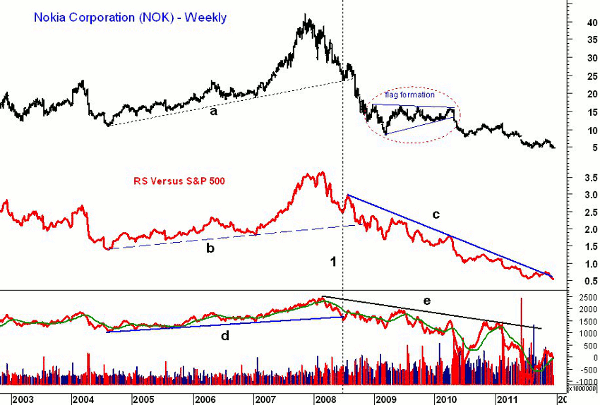 Click to Enlarge
Nokia Corporation (NOK) is a well-known, $18.5 billion company that currently yields 9.7%. The stock has also had a miserable year, down 49.9% for the year.
NOK has really never recovered from the break of key support during the summer of 2008
The RS analysis topped out in April 2008 and then broke long-term support, line b, in November 2008
Since 2008, the RS analysis has been in a well-established downtrend, line c, and shows no signs yet of bottoming
The OBV broke support, line d, ahead of prices, line 1, and has been forming lower highs over the past few years
NOK formed a bear flag formation in 2009-2010, which set the stage for a further decline
There is initial resistance at $5.40-$6.00
What It Means: Even basic fundamental investors simply must employ some elements of technical analysis in their investing decisions.
Those who don't use technical analysis often face the difficult decision of whether or not to sell because while they bought the stock for yields of over 10%, the stock price has since dropped much more than the yield has paid them.
How to Profit: Clearly, I have no recommendations to buy any of these three stocks, but those who own any of these shares should be certain to pick a level in advance where they will cut their losses.