Overbought Banks Enter Earnings Season
01/17/2012 10:38 am EST
Focus: STOCKS
Earnings could be the catalyst that drives bank stocks including BB&T (BBT) into high-risk buying zones, while one big bank stock looks like a good buy on a correction.
The reaction of the overseas markets to the S&P downgrades announced after Friday's close has been very positive with stock index futures actually showing nice gains. This week, of course, is one of the more important weeks with quarterly earnings announcements from Citigroup (C) and Wells Fargo (WFC) due out before the opening on Tuesday.
In running a weekly scan of the bank stocks, I was interested to note that over half of the ten bank stocks that are closest to their weekly Starc+ bands have either already reported or are scheduled to report earnings this week.
All are less than 6% below their weekly Starc+ bands, so a positive reaction to earnings could easily push prices above the bands. When price is near the Starc+ band, it is a high-risk time to buy and a low-risk time to sell. (For more on Starc bands, read "Buy, Sell, or Wait: A Way to Decide.")

Click to Enlarge
The three bank stocks that I am focusing on today are also close to strong weekly resistance, suggesting that current shareholders who have nice gains already may want to book profits on further strength.
The signs of deterioration in the overall stock market that I noted last week still make a correction likely. One of these bank stocks stands out as attractive buy on a significant correction.
NEXT: 2 Bank Stocks Approaching High-Risk Conditions
|pagebreak|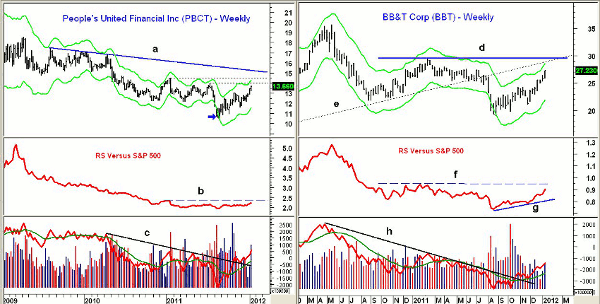 Click to Enlarge
Chart Analysis: People's United Financial, Inc. (PBCT) is $4.6 billion bank holding company for People's United Bank based in Connecticut.
The stock traded below the weekly Starc- band for two weeks last August (see arrow), hitting a low of $10.50, but it closed last week at $13.66
The weekly chart shows a band of resistance between $14 and $14.50 (dashed lines) with the weekly Starc+ band at $14.30
The weekly downtrend, line a, is at $15.25
Weekly relative performance, or RS analysis, has improved but is still below strong resistance at line b
Weekly on-balance-volume (OBV) is acting better, as volume was strong last week, and the downtrend, line c, has been broken. Weekly OBV is in a clear uptrend
PBCT has initial support at $13.20 with stronger support at $12.20-$12.60. The stock currently yields 2.6%
BB&T Corp. (BBT) is a $19 billion mid-Atlantic Bank that was discussed in Barron's this week amidst a forecast for a 30% gain. It is already up 44% from the August low at $18.92.
The weekly Starc+ band is at $28.57 with the converging trend line resistance (lines d and e) in the $29.10-$29.60 area
A 30% gain from current levels would take BBT to $35.40
RS analysis shows a clear short-term uptrend, line g, but is still below the major resistance at line f
Weekly OBV has broken its downtrend from the 2010 highs and is well above its rising weighted moving average (WMA). The heavy selling in October is consistent with a panic low
There is first good support now in the $24-$25 area. BBT currently yields 2.4%
NEXT: A Big Bank Stock to Buy on a Correction
|pagebreak|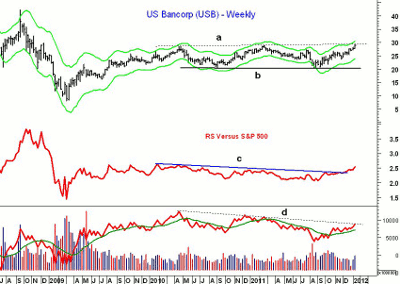 Click to Enlarge
US Bancorp (USB) is a $55.4 billion bank holding company that is now testing the upper boundary of its two-year trading range in the $29.40 area. The weekly Starc+ band is now at $30.54.
The trading range, lines a and b, is about $9 wide, so an upside breakout would project a rally to the $38 area
The weekly RS line has already broken through long-term resistance at line c, which suggests USB will continue to outperform the S&P 500
Weekly OBV has been above its weighted moving average since early October and is now on the verge of breaking through strong resistance at line d
There is first good support now in the $27.50-$28 area with stronger support at $26. USB currently yields 1.7%
What It Means: When a stock is close to its weekly or monthly Starc+ band at the same time earnings are released, it creates an environment where the stock can rally for a bit after positive earnings before an ensuing correction, or conversely, it can be hit hard in the event the earnings disappoint.
As I noted in the Week Ahead column, I am expecting a bumpy ride for stocks this week given all of the upcoming earnings reports, as well as options expiration this Friday.
The earnings announcement from Citicorp (C) disappointed and the stock is down over 4.5%, while Wells Fargo (WFC) beat estimates and is up slightly.
How to Profit: For US Bancorp (USB), buy at $26.72 with a stop at $24.22 (risk of approx. 9.3%).