The Most Overbought Dow Stocks
07/03/2012 11:30 am EST
Focus: STOCKS
A look at the charts of these blue chips shows a lot of potential strength right now, but one in particular is ready to buy on the next significant pullback.
After a very weak April and May, stocks put in a strong performance in June, which made a dramatic difference in the quarterly sector performance. It is not too surprising that some of the best-performing stocks were those that show up on my monthly Starc band analysis of the Dow Industrials.
As a quick refresher on Starc band analysis, when prices are near to their monthly Starc+ band, it means that the stock is a higher-risk buy than if it were close to the lower monthly or Starc- band. The scan also highlights those stocks that are performing stronger or weaker than the S&P 500.
The monthly chart analysis can also offer a different perspective, and can help one spot important breakouts as well as key support levels. In the majority of cases, prices will respect monthly support, but there are exceptions.


Click to Enlarge
The most overbought Dow stock at the end of June was Wal-Mart (WMT). It closed at $69.72, which was just 1.9% below the monthly Starc+ band at $71.03. WMT was one of the stocks I recommended in April, when longs were established at an average price of $60.21 and a stop at $57.78, which was well under the prior three-month low of $58.21.
In late April, news of the Mexico bribery scandal hit WMT stock hard, as it dropped to a low of $57.18, the lowest level since last November. Our longs were stopped out but by the end of May. (WMT had closed at $65.82 and above major resistance that went back to 2002.)
This definitely hurt, but I wanted to include it as it is a good example of how even the best-laid plans do not work. Additional attempts to rebuy WMT have been unsuccessful, as there has been little in the way of a pullback.
Let's look at the four stocks on the most overbought list that have the most interesting charts.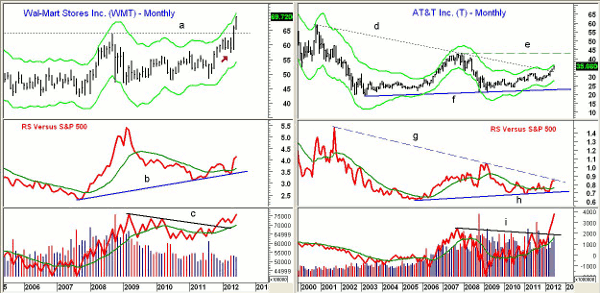 Click to Enlarge
Chart Analysis: The monthly chart of Wal-Mart (WMT) shows the major resistance, now support, in the $64 area (line a).
Though not visible on the chart, the breakout resolved a ten-year, $22 trading range that has upside targets in the $84 to $86 area


The arrow shows the break below the major monthly support in late April


The relative performance, or RS analysis has formed a long-term uptrend going back to 2007 (line b)


Over the past two months, the RS line has surged above the 2011 highs and its rising WMA


The monthly on-balance volume (OBV) broke through its downtrend (line c) in late 2011, and is acting very strong as it has confirmed the breakout


There is initial support now around $66 to $67.50, and then in the $64 area


This long-term chart of AT&T (T) goes back to 2000, and shows the close above its long-term downtrend (line d) two months ago. Those who have been patient with this perennial blue-chip favorite finally have been rewarded, as it is up almost 16% since the start of April.
The monthly chart shows next major resistance in the $40.70 to $43.20 area (line e)


The RS analysis just tested long-term resistance (line g). It moved back above its WMA at the end of April


The relative performance had formed a long term base over a seven-year period (line h)


The monthly OBV looks even stronger, as it surged through major resistance (line i) at the end of March


The weekly RS and OBV analysis (not shown) have both confirmed the price action


There is initial support in the $34.30 to $35 area with stronger levels near $32


NEXT: A Buying Opportunity in a Market-Leading Sector
|pagebreak|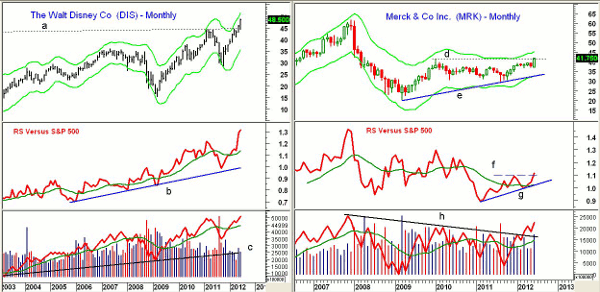 Click to Enlarge
The monthly chart of Walt Disney (DIS) shows that it has closed higher for the past two months, as the resistance going back to 2000, in the $44.70 area (line a), has been overcome.
The monthly Starc+ band is now at $51.65, which is 6.5% above close at the end of June


The 127.2% Fibonacci retracement target from the 2011 correction was $48.95, which was hit in June


The RS analysis has confirmed the breakout, as it made new rally highs in June. It also shows a long-term uptrend (line b)
The monthly OBV moved above its WMA at the end of 2011, and has confirmed the new highs


There is initial support now at $47.60, with stronger levels to follow at $45 to $45.50


Key monthly support sits at $40.88, which was the April low


The health-care sector was quite strong in June, as the Select Sector SPDR Health Care (XLV) was up well over 7%. Merck (MRK) is now becoming a market leader, as the January 2010 high of $41.56 (line d) has been overcome.
MRK traded in a very tight range over the past five months, with monthly support now at $36.90


The relative performance has completed a bottom formation, having moved above key resistance (line f). This confirms the uptrend (line g)
The OBV surpassed major four-year resistance (line h) in early 2012. It shows a very bullish pattern


The weekly technical studies (not shown) are also strong and confirming prices


MRK did close well above its weekly Starc+ band last week, which increased the odds of a pullback


There is minor support now at $40.20, with stronger levels in the $39-$39.40 area


What it Means: Many of the stocks on the most overbought list have been on my buy list for the past several months, but because of my emphasis on risk control the recommended buy levels have not been hit.
Therefore, my buying levels in stocks like Walt Disney (DIS), Verizon (VZ), Wal-Mart (WMT), and Home Depot (HD) have not been hit. I am looking for a pullback in all of these stocks to open a buying opportunity. However, new longs in Merck (MRK) are now recommended
How to Profit: For Merck (MRK), go 50% long at $40.52 and 50% long at $39.66, with a stop at $38.12 (risk of approx. 4.9%).
Portfolio Update: Buyers should be 66% long AT&T (T) from $28.57, with a stop level at $31.77. I previously advised selling one-third of the position at $34.11 or better.
For a look at the full Charts in Play Portfolio, click here.