Technical Studies Warn of Earnings Miss
07/09/2012 11:15 am EST
Focus: STOCKS
Even though stocks rebounded late Friday, the lower close set the stage for the stock market heading into earnings season. Rates dropped Friday, suggesting that once again nervous investors have moved back to the safety of the Treasury market.
Of course, earnings season starts after the close today, with Alcoa (AA). In April's article "3 Ways to Predict Post-Earnings Shocks," I discussed the three technical tools that I find helpful in guiding investors on whether they should take an action before or after an earnings report.
In most cases, taking a new position ahead of an earnings report is generally quite risky…but signs that a stock is acting weaker than the overall market can be a good reason to close out longs ahead of a report. Looking at the key Fibonacci levels as well as the on-balance volume (OBV) can also give you some insight ahead of a report.
Also, sometimes a stock will drop sharply on a disappointing earnings report, yet the positive technical readings will suggest in advance that buying on the drop to longer-term support is a good idea.
This week, in addition to Alcoa (AA), we also have Google (GOOG) along with financial heavyweights JPMorgan Chase (JPM) and Wells Fargo (WFC), all scheduled to release earnings on Friday, July 13.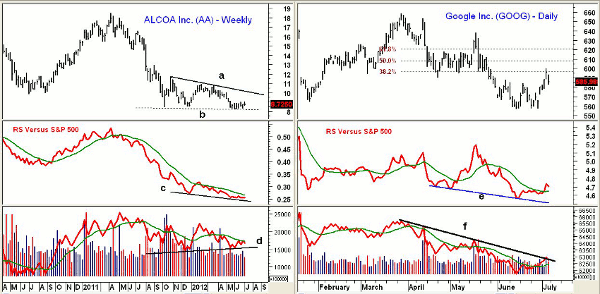 Click to Enlarge
Chart Analysis: The weekly chart of Alcoa (AA) reveals a triangle or flag formation (lines a and b). It is a sign of weakness that AA has traded in a very tight range between $9.12 and $8.21 over the past eight weeks.
A break of support (line b) has initial downside targets in the $7 to $7.30 area
The weekly relative performance, or RS analysis has been forming lower lows in 2012 which is a sign of weakness
The weekly OBV has rallied back to its declining WMA, but turned lower last week
A break in OBV support (line d) would be a much stronger sell signal
There is minor resistance now at $9.10 to $9.30, followed by further levels at $9.60
Google (GOOG) rallied just above the 38.2% Fibonacci retracement resistance at $596.70 last Thursday, before turning lower on Friday. The 50% retracement resistance is at $608.75.
The daily RS line did rally above its WMA last week, but shows a pattern of lower lows (line e). This indicates GOOG is acting weaker than the S&P 500
The daily OBV just slightly broke its downtrend (line f) last week. The OBV shows a pattern of lower lows and lower highs, which is a sign of weakness
Next support sits near $576, with more important levels in the $556 to $560 area. If this level is broken, the next long-term support waits in the $520 area
NEXT: Which of the Two Banks Is Worth Considering?
|pagebreak|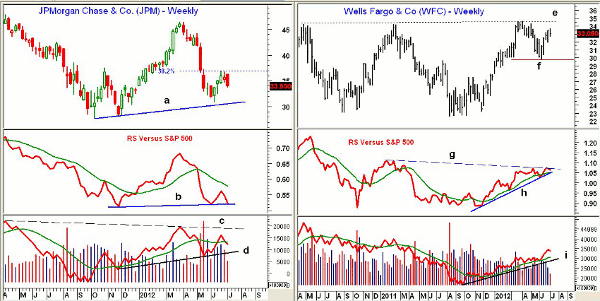 Click to Enlarge
JPMorgan Chase (JPM) will likely be the most widely watched report this week, as investors are hoping to get the latest reading on how much their "hedging loss" has grown from the initial $2 billion estimate.
JPM had rallied back to a high of $37.03 three weeks ago, which corresponds to the 38.2% retracement resistance from the March high at $46.49
Last week's sharply lower close is a sign of weakness, with next support at $32.50 and then more important levels at $30.60 (line a)
The weekly OBV has dropped back below its WMA, with key support now at line d. There is long-term OBV resistance at line c
The daily RS and OBV analysis (not shown) are negative
Wells Fargo (WFC) tested its two-year resistance in the $34.60 area in March before dropping back to $29.80 in June.
The rally last week exceeded the 61.8% retracement resistance at $32.75 last week, which is a positive sign
The weekly relative performance is just bumping into major resistance (line g)
WFC has been outperforming the S&P 500 since late last year, and a break through long-term resistance by the RS line would be very bullish
The RS line has initial support at line h, but would have to start a new downtrend to turn negative
The weekly OBV bottomed late last year, and is still in a well-established uptrend (line i). A drop in the OBV to its rising WMA should mean a buying opportunity
There is now initial support at $32 to $32.40, with key support at $29.80
What it Means: The weak charts and technical studies suggest that Alcoa (AA), Google (GOOG), and JPMorgan Chase (JPM) all look susceptible to further weakness in reaction to their earnings reports. Even if their earnings are better than expected, the technical outlook is negative, and it would take some time to turn their outlook positive
On the other hand, Wells Fargo (WFC) looks the best technically…but the stop needs to be under the June lows at $29.80.
How to Profit: For Wells Fargo (WFC), go in 50% at $32.10 and 50% at $31.38, with a stop at $29.64 (risk of approx. 6.6%).