No Big Winners in Vegas Tonight
07/24/2012 11:20 am EST
Focus: STOCKS
Despite apparently strong fundamentals, the casino stocks have been clearly out of favor in the last few months, as investors have clearly been betting against them. These two leading casino stocks have earnings out in the next two weeks...but are there any reasons to buy?
The selling in the US market early Monday had some signs of panic liquidation, so the market's ability to close well off the lows was an encouraging sign.
Stocks are again trading a bit lower early Tuesday. So far, the follow-through sell on renewed concerns over Spain's debt problems has not been too heavy, but the next few days will tell us more.
There were some industry groups, like tires, coal, and homebuilders, which were higher Monday, diverging from the S&P 500 or Spyder Trust (SPY).
Some industry groups also dropped more than the SPY, which was down just over 1% on Monday. These groups included renewable energy and alternative fuels, both of which were down over 3%. Also on the downside were consumer electronics (-2.98%) and nonferrous metals (-2.91%).
The casino and gambling stocks were also weak as the S&P Casino & Gambling Index was down 2.4%. Caesars Entertainment (CZR) lost 5.5%, followed by a 4% decline in Las Vegas Sands (LVS).
LVS reports earnings on Wednesday, and many diehard bulls are hoping for some good news. But the technical action is telling a different story.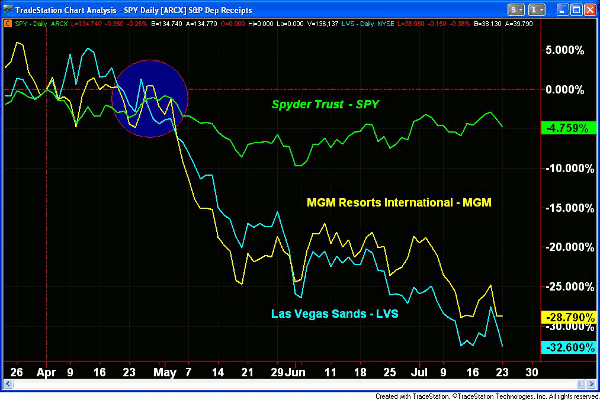 Click to Enlarge
Chart Analysis: It has been a split year for gambling stocks, as Las Vegas Sands (LVS) closed 2011 at $42.76 and then peaked on April 12 at a high of $62.05 before closing at $61.05. On a closing basis, this was a gain of 42.8%.
The percent change chart shows the change in performance of the Spyder Trust (SPY), MGM Resorts International (MGM), and Las Vegas Sands (LVS) since the start of April.


In early April, both LVS and MGM were acting stronger than the SPY, but this changed by the end of the month.


The percent change for both stocks dropped below the SPY (see circle) as they began to act weaker than the SPY.


The decline in both stocks accelerated in May, and by early June both were down over 25%.


LVS has continued to drop—as of Monday's close it had lost over 32% since the beginning of April. MGM has done a bit better, down only 28.8%.


The SPY during the same period is down just 4.75%.


NEXT: RS Analysis Warned of Casino's Plunge |pagebreak|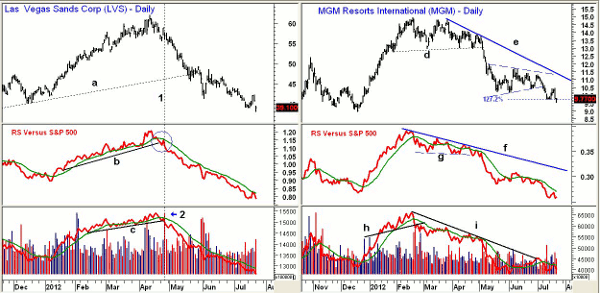 Click to Enlarge
The daily chart of Las Vegas Sands (LVS) shows that the uptrend from last fall's lows, line a, was broken in mid-May. The weekly chart staged a major breakout early in the year and the 127.2% Fibonacci price-projection target at $61.80 was exceeded on April 12.
LVS gapped lower Monday to close at $39.10, with the September 2011 low to follow at $36.25.


The relative performance, or RS analysis did confirm the April highs before dropping below its four-month uptrend (line b).


The RS line then rebounded back to its declining WMA on April 25 (line 1) and closed on the highs the day before LVS reported its earnings.


LVS was down 3% on earnings, and volume was heavy (point 2) at 22 million shares.


The on-balance volume (OBV) had already dropped below its WMA, but the high volume pushed it below support (line c).


Both the RS analysis and OBV have been in well established downtrends since the start of May, and show no signs yet of bottoming.


There is initial resistance now at $40.60, with stronger levels at $41.75 to $42.50.


MGM Resorts International (MGM) broke to new correction lows Monday, but closed above the lows.
The daily chart shows that a complex top formed from February to March 2012, as MGM peaked at $14.94 in February.


The volume on the decline in late February was heavy, but the support at $12.87 held.


This support level was also tested twice in April before it was broken on May 4.


After plunging over 30%, MGM formed a flag formation in May and June (dashed lines) which was a typical continuation pattern.


The formation was completed in the latter part of June, and the 127.2% price target has been met.


Even though MGM tested its highs in March, it was no longer leading the S&P 500, as the RS line formed lower highs (line f).


The lower lows in the RS (line g) were a sign of weakness, and it broke support ahead of prices.


The heavy selling in February dropped the OBV below support (line h).


The OBV was making lower lows in April, even though MGM was holding support. The OBV still looks weak


What it Means: There were a series of warnings by the end of April that these two casino stocks were starting to act weaker than the S&P 500. By May, the sell signals were in full force, and there are no signs yet that these stocks have bottomed.
Of course, a better than expected earnings report could give LVS a boost, as it is clearly quite oversold.
How to Profit: No recommendations in these casino stocks for now.