4 All-Weather Picks Approaching Support
04/14/2014 10:15 am EST
Focus: STOCKS
A technical look at six stocks that were picked by some of Hulbert's top-ranked advisors in March reveals that four are now getting closer to long-term support, according to MoneyShow's Tom Aspray.
All of the major market averages, except the NYSE Composite, closed last week below their quarterly pivot levels. The PowerShares QQQ Trust (QQQ) had closed below its quarterly pivot a week earlier, on April 4, and is now close to the quarterly projected pivot support at $83.53.
Last Friday's review of the market's corrections in 2010, 2011, and 2012 revealed that they coincided with overly-pessimistic views of the economy or markets. The current concern seems to be focused on, what is expected to be, a weak earning's season. The positive long-term readings from the NYSE Advance/Decline identified that these corrections would ultimately lead to a good buying opportunity.
That is also the case this time, but stronger sells signal are possible this week that would indicate that the current decline has further to go and will last longer. The growing tensions in the Ukraine do add a further "real" concern to the markets over the near term.
The European markets were hit in early trading, before rebounding, and the US futures are now in positive territory. Many are watching the 1800 level in the S&P 500 which, if broken, could signal a decline to the 1770 area. However, a rally is likely below these stronger levels of support and could be tested.
The improving relative performance of the SPDR Dow Industrials (DIA) indicates that some large-cap stocks should be on your buy list during the market correction, but what other stocks look attractive?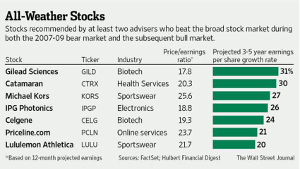 Click to Enlarge
In the March 21 weekend edition of the WSJ, Mark Hulbert highlighted these six stocks in his article "Stock Picks From Intrepid Advisers." The table also included their current P/E, as well as their projected three-five year earnings. A technical review of these stocks revealed that four are approaching important levels of support, so investors should now be watching them.

Click to Enlarge
Chart Analysis: Catamaran Corp. (CTRX) is an $8.03 billion technology software company that specializes in providing pharmacy and healthcare benefits' software.
IPG Photonics (IPGP) is a $3.84 billion dollar developer and manufacturer of fiber lasers that are used in the semiconductor industry. The stock was actually up just over 1% last Friday.
NEXT PAGE: 2 More Large-Caps to Watch
|pagebreak|

Click to Enlarge
Celegene Corp. (CELG) is a well-known biotechnology company that focuses on the treatment of cancer and immune related diseases.
Lululemon Athletica (LULU) is the high profile manufacturer of athletic equipment that has been in the news frequently over the past year.
What it Means: Concerns over the current earnings season has helped precipitate the recent market drop. Over the next two weeks, we should get a better idea of the actual earnings and, more importantly, the guidance for the rest of 2014.
If the experts are right about the earning's growth of these six stocks then they could be market leaders again, once the correction is over. Therefore, the support levels noted above should be watched, but only have a specific recommendation now for IPG Photonics (IPGP).
How to Profit: For IPG Photonics (IPGP) go 50% long at $68.24 and 50% long at $66.44 with a stop at $63.29 (risk of approx. 6%).