Should You Act on Crude's Seasonal Trend?
05/07/2014 10:30 am EST
Focus: COMMODITIES
Seasonality patterns tend to favor an uptick in crude oil prices from summer to fall, and MoneyShow's Tom Aspray takes to the charts to see if crude is on track to repeat this year.
Stocks took another beating on Tuesday, reversing the positive tone from Monday's close. The small-cap stocks were hit the hardest as the Russell 2000 dropped below its 200-day MA for the first time since November of 2012.
The NYSE Composite is still holding above both its 20-day EMA and the monthly pivot at 10,522. The more important quarterly pivot is at 10,270 and at 1831 for the S&P 500. The McClellan oscillator has fallen to -45 and is now below the late April lows. The sharp 17.8% drop in Twitter, Inc. (TWTR) did not help the market's tone.
It is still an earnings-driven market and quite a few companies are reporting today. The Eurozone markets are mixed while the stock index futures are higher in early trading. The energy and oil service stocks were one of the best performers on Tuesday but what is the technical and seasonal outlook for crude in May?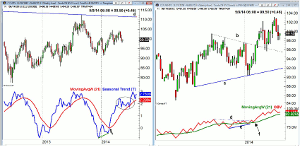 Click to Enlarge
Chart Analysis: The weekly chart of the continuous crude oil contact shows that the long-term resistance, line a, is in the $111 area.
The weekly chart of the July crude oil contract shows that it peaked three weeks ago at $103.11 and closed last week below $100.
NEXT PAGE: 2 Ways to Play Crude's Potential Breakout
|pagebreak|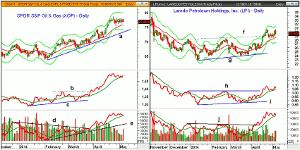 Click to Enlarge
The SPDR Oil & Gas Exploration (XOP) is up over 18% in the past three months, though it has been moving sideways for the past seven days. XOP has been leading the Spyder Trust (SPY) all year.
Laredo Petroleum Holdings, Inc. (LPI) reports its earnings on Thursday, and despite the increasingly bullish analyst forecasts for earnings, the stock was off 2.6% on Tuesday.
What It Means: If the overall market sees another wave of selling in the next few days, then the NYSE Composite and S&P 500 may drop to stronger support. The daily NYSE Advance/Decline made a new high last Friday and shows no signs yet of a completed top.
The OBV analysis of crude oil suggests that it will eventually break out to new highs for the year, but it may have to wait until early June.
How to Profit: No new recommendation
Portfolio Update: Should be 50% long SPDR Oil & Gas Exploration (XOP) at $72.91, and I would raise the stop to $75.96. If the stop is hit, I will look to re-buy lower.
Should be 50% long Laredo Petroleum Holdings, Inc. (LPI) at $26.64. Use a stop at $28.18. Sell half at $29.89 or better.