3 Takeover Targets with Strong LT Charts
05/27/2014 10:00 am EST
Focus: STOCKS
With interest rates still at all-time lows, it's no surprise that M&A activity is near all-time high levels, as MoneyShow's Tom Aspray takes a technical look at three stocks that could be the next acquisition targets.
Though many traders likely left early for the long Memorial weekend, the bulls did not leave early as they kept prices strong into the close. The market internals, including the up/down volume, were 2 to 1 positive. The weekly and daily NYSE Advance/Decline lines made further new highs last week, reversing the deterioration that was evident early last week.
The markets will be hit by a barrage of fundamental data today with Durable Goods, the S&P Case-Shiller HPI, and Consumer Confidence all scheduled to be released. Investors will also be watching Markit's PMI Services Index along with the manufacturing data from both the Richmond and Dallas Fed districts.
Over the weekend, Pfizer Inc. (PFE) finally dropped its bid for AstraZeneca (AZN) over the weekend. This has clearly been a year dominated by mergers and acquisitions as globally M&A activity is up well over 40% from a year ago.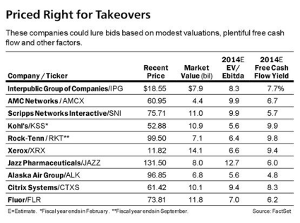 Click to Enlarge
Over the weekend, in a Barron's article How to Play M&A, they came up with a list of ten stocks that their fundamental analysis suggested were prime takeover targets. A technical review of the monthly and weekly charts of these stocks revealed three that stand out with their positive long-term charts.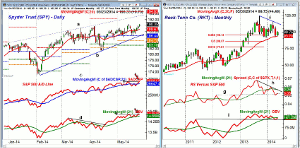 Click to Enlarge
Chart Analysis: The Spyder Trust (SPY) closed at a new all-time high Friday, which likely shocked some of the already vacationing market bears.
Rock-Tenn Co. (RKT) is a $7.07 billion container and packaging company that peaked in 2013 at $124.75. It has a current yield of 1.40%.
NEXT PAGE: 2 More Stocks to Watch
|pagebreak|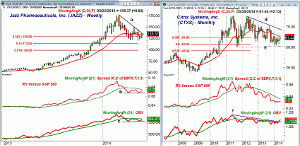 Click to Enlarge
Jazz Pharmaceuticals, Inc. (JAZZ) is an $8.04 billion specialty biopharmaceutical company that peaked in February at $176.60. It was one of the many stocks hit by the heavy biotech selling.
Citrix Systems, Inc. (CTXS) is a $10.07 billion business software and services company that has been in a broad trading range since it peaked at $88.49 in June 2011.
What It Means: I often find that fundamental scans do provide good material for my technical watch list, but as always, the focus should be on the risk of each trade. Many of the ten stocks featured in the article may open higher Tuesday due to the phenomenon known as the Barron's Boost.
Stocks that they recommend can move higher after they have been featured, but often trade back to the pre-article levels in the following weeks. Therefore, patience is important.
Durable Goods came out strong this morning and the futures are sharply higher in early trading. As I noted last week, "The repeated breakout failures have made most traders skeptical, so a sustainable move to the upside could catch the majority by surprise."
It may take two consecutive closes in the Spyder Trust (SPY) above $191.50 to convince the market skeptics.
How to Profit: For Rock-Tenn Co. (RKT), go 50% long at $98.39 and 50 % at $97.64, with a stop at $93.59 (risk of approx. 4.5%).
For Jazz Pharmaceuticals, Inc. (JAZZ), go 50% long at $131.08 and 50 % at $127.86, with a stop at $122.77 (risk of approx. 5.2%).
For Citrix Systems, Inc. (CTXS), go 50% long at $59.46 and 50 % at $58.14, with a stop at $56.43 (risk of approx. 4.2%).
Portfolio Update: Should be 100% long the Spyder Trust (SPY) at $185.02. Use a stop at $185.83.
Should be 50% long PowerShares QQQ Trust (QQQ) at $86.88 or better. Use a stop now at $86.47.