Steady As She Goes or S&P at 2500?
09/09/2014 10:30 am EST
Focus: STOCKS
The newfound bullishness of Wall Street strategists does make MoneyShow's Tom Aspray a bit concerned but two of their stock picks are now just starting to become market leaders.
Ahead of the widely anticipated announcement by Apple, Inc. (AAPL), stocks drifted lower led by the gold miners and oil and gas stocks. More stocks declined than advanced as the McClellan oscillator has dropped back below the zero line, closing at -68.
It is difficult to imagine that AAPL can match the market's expectations as seats closer to the front of the waiting line outside the NYC store were sold for $1250 each. The stock has already dropped over 5% from its high with monthly pivot support at $96.22. The market's reaction to the announcement is likely to set the tone for the market over the next few days.
Apple stock is one of the picks from Barron's mid-year survey of ten Wall Street strategists and the consensus view is for the "the bull to stay in charge for the rest of this year."
One of their analysts became even more bullish as Federated Investor's Stephen Auth "expects the S&P 500 to climb to 2500 in the next 18-24 months." He was one of the few strategists that was correctly bullish at the end of 2012. The bullish camp is becoming more crowded as two bearish market strategists from Deutsche Bank and Stifel Nicolaus have switched to the bullish camp.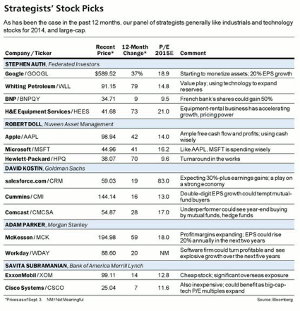 Click to Enlarge
This does make me a bit nervous as following the crowd is often a dangerous strategy. Though it does not change the bullish intermediate-term outlook from the A/D lines, it does allow for a deeper correction within the major uptrend.
I do get some good ideas from the stock picks of these strategists as their fundamental research teams are top notch. The table above provides the top picks of each analyst and I have selected the four that look the best to me from a technical standpoint.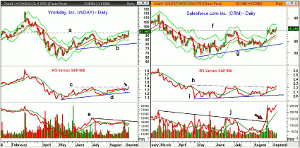 Click to Enlarge
Chart Analysis: Workday, Inc. (WDAY) is a $17.44 billion provider of cloud-based human resources software. It is trading 19.3% below its 52-week high but is still up over 13% YTD.
Salesforce.com, Inc. (CRM) is a $37.4 billion company that is likely better known than WDAY but also provides cloud-based enterprise computing solutions. The stock is now 9.91% below its 52-week high but is still up 9.37% YTD.
NEXT PAGE: Two More Stocks to Watch
|pagebreak|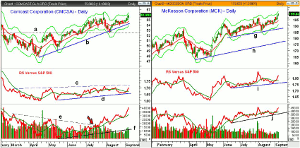 Click to Enlarge
Comcast Corporation (CMCSA) is a $144.5 billion dollar communication giant that is trading just slightly below its 53-week high of $56.49.
McKesson Corporation (MCK) is a $46.23 billion provider of drugs, medical supplies, and healthcare information technology. The stock is very close to its 52 week high and is up 24.13% YTD.
What it Means: The relative performance analysis clearly makes Workday, Inc. (WDAY) and Salesforce.com, Inc. (CRM) my two favorite picks. Both need a pullback so that a reasonable stop can be used as both stocks can be quite volatile.
Though the daily technical outlook is also positive for Comcast Corporation (CMCSA) and McKesson Corporation (MCK), they are both near their 52-week highs, which increases the risk at current levels. They may be, therefore, more vulnerable on a market correction.
How to Profit: For Workday, Inc. (WDAY) go 50% long at $90.52 and 50% long at $89.66 with a stop at $84.93 (risk of approx. 5.7%).
For Salesforce.com, Inc. (CRM) go 50% long at $58.03 and 50% long at $56.77 with a stop at $54.71 (risk of approx. 4.6%).