Don't Hang Your Hopes on OPEC
11/26/2014 10:30 am EST
Focus: COMMODITIES
Many are wondering whether OPEC can take any action tomorrow to stabilize crude oil prices, so MoneyShow's Tom Aspray takes a multi-time frame look at crude oil and the energy stocks to determine if his bearish outlook should change.
The upward revision in the GDP caught some by surprise on Tuesday as stocks managed slight gains, even though the report on Consumer Confidence was disappointing. The slightly positive market internals resulted in a mixed close with the Dow Jones Transports and Nasdaq 100 managing slight gains.
The Dow Industrials and S&P 500—along with the Russell 2000—closed slightly lower. There is more data out today on consumer sentiment and the housing market. Given the weather forecast and shortened trading day on Friday, the volume is expected to be light the rest of the week.
As most investors get ready for Thanksgiving, those whose focus is on the energy markets are waiting for Thursday's OPEC meeting. The most recent rumors ahead of the meeting suggest that production will not be cut despite the plunging crude oil prices.
The technical outlook for crude has been negative for several months as I reviewed again in early October's How Low Will Oil Stocks and Crude Oil Go? The technical outlook is always more important than crude oil's seasonal tendency for crude to bottom in the next three months.
The energy stocks have bounced nicely from the October lows and this has encouraged some energy bulls, but is there any technical reason to suggest crude oil or the energy stocks have made their lows?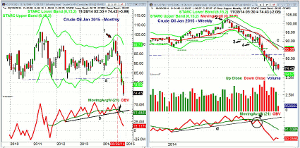 Click to Enlarge
Chart Analysis: The monthly chart of January crude oil shows that it is ready to close below the monthly starc- band for the second month in a row.
The weekly chart of January crude oil shows that it tested the weekly starc+ band for three weeks in June (point 2) before prices reversed.
NEXT PAGE: Two Energy ETFs to Watch
|pagebreak|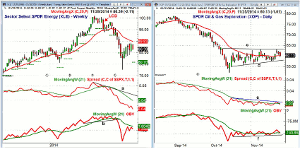 Click to Enlarge
The Sector Select SPDR Energy (XLE) is down 0.98% YTD as it has lost 11.28% in the past three months.
The SPDR Oil & Gas Exploration (XOP) has been weaker than the XLE as it is down 11.71% YTD as it has lost 22.45% in just the past three months.
What it Means: The monthly, weekly, and daily analysis of crude oil, as well as the energy sector ETFs, suggest that another decline is likely before a bottom could be completed.
In October's The Week Ahead: This Market Could Hurt Stocks, I was concerned that the energy sector could drag the entire market lower. This is now a real possibility again as another wave of selling in the energy stocks could help precipitate a deeper market correction.
How to Profit: No new recommendation.
Here are some of my recent articles that you might enjoy:
Four IBD Top 50 Stocks on the Way Up

Demand Success from Your Portfolio

Best Charts from Successful Investing's Top 14 Picks