Further Losses Ahead for USD/JPY?
10/09/2008 5:03 pm EST
Focus: FOREX
The Federal Reserve, in coordination with other central banks, has been taking a number of actions to stabilize financial markets. However, the US economy will continue to face substantial challenges including further job losses, high energy prices, and a rapid deleveraging in the financial sector.
More Losses on Mortgage-Backed Securities Could Mean More Gains on the Japanese yen
There is a growing concern among international investors that any central bank measure will fail to restore investor confidence in the global financial system, and given the current market environment of uncertainty and deleveraging in financial markets, the US dollar is likely to remain vulnerable against lower-yielding currencies like the Japanese yen. The Federal Reserve has been taking a number of actions to increase liquidity and stabilize markets and the new bailout plan, if approved, is likely to help the demand for housing in the form of lower mortgage rates. However, much more is needed since the US economy will continue to slide until we see a much larger correction in the supply side of the housing sector in the form of lower prices. I will repeat something I have been saying over the last few days. Currently, the average American can't afford to pay for a mortgage and there is something wrong with that. As a result, we are still far from reaching a bottom in the US housing market and we may see more losses on Mortgage- Backed Securities and gains on the Japanese yen.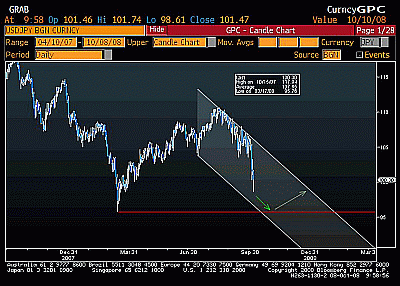 Source: Bloomberg
The United States Federal Government Deficit Could Reach $1 Trillion
Investors expect that the recent efforts by the US Federal Reserve to clean the market from some toxic assets could lead to a more general recover in the appetite for risky assets like high-yielding currencies. However, some investors are concerned with the fiscal impact of the bailout plan, which could cost almost five percent of GDP. Currently, the United States federal government runs a deficit of $438bn, or three percent of gross domestic product, and the bailout costs could push the fiscal deficit next year to $1 trillion, or seven percent of GDP.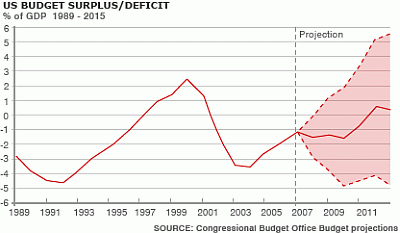 Federal Reserve Press Release
"The Federal Reserve Board on Tuesday announced the creation of the Commercial Paper Funding Facility (CPFF), a facility that will complement the Federal Reserve's existing credit facilities to help provide liquidity to term funding markets. The CPFF will provide a liquidity backstop to US issuers of commercial paper through a special purpose vehicle (SPV) that will purchase three-month unsecured and asset-backed commercial paper directly from eligible issuers. The Federal Reserve will provide financing to the SPV under the CPFF and will be secured by all of the assets of the SPV and, in the case of commercial paper that is not asset-backed commercial paper, by the retention of up-front fees paid by the issuers or by other forms of security acceptable to the Federal Reserve in consultation with market participants. The Treasury believes this facility is necessary to prevent substantial disruptions to the financial markets and the economy and will make a special deposit at the Federal Reserve Bank of New York in support of this facility.
The commercial paper market has been under considerable strain in recent weeks as money market mutual funds and other investors, themselves often facing liquidity pressures, have become increasingly reluctant to purchase commercial paper, especially at longer-dated maturities. As a result, the volume of outstanding commercial paper has shrunk, interest rates on longer-term commercial paper have increased significantly, and an increasingly high percentage of outstanding paper must now be refinanced each day. A large share of outstanding commercial paper is issued or sponsored by financial intermediaries, and their difficulties placing commercial paper have made it more difficult for those intermediaries to play their vital role in meeting the credit needs of businesses and households.
By eliminating much of the risk that eligible issuers will not be able to repay investors by rolling over their maturing commercial paper obligations, this facility should encourage investors to once again engage in term lending in the commercial paper market. Added investor demand should lower commercial paper rates from their current elevated levels and foster issuance of longer-term commercial paper. An improved commercial paper market will enhance the ability of financial intermediaries to accommodate the credit needs of businesses and households."
By Antonio Sousa, Chief Strategist, DailyFX
DailyFX provides forex news on the economic reports and political events that influence the currency market. Learn forex trading with a free practice account and charts from FXCM.