Analysis of the EUR/JPY Currency Pair
10/16/2008 12:56 pm EST
Focus: FOREX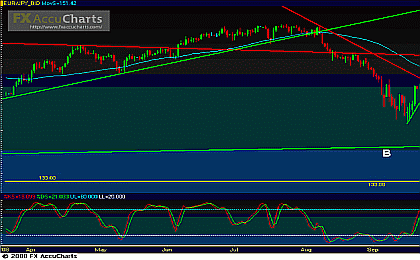 (Price on 1st pane, Slow Stochastics on 2nd pane; uptrend lines in green; downtrend lines in red; horizontal support/resistance level in yellow; Fibonacci retracement levels in grey; 50-period simple moving average in light blue.)
After dropping consistently and rapidly over the past two months with only one significant pullback, price action on the EUR/JPY daily chart, as shown, has just pulled back once again only a couple of days ago (marked "A"). This pullback has been especially significant because it stopped almost precisely at a level that was reinforced by two different resistance factors.
For one, the move pulled right back up to a key uptrend support line (marked "B") below which price broke down only last week. The second resistance factor is a key 38.2% Fibonacci retracement level within the context of the latest bearish run (from around 156.82 to 132.22).
A downtrend continuation off this pullback should be confirmed on a clean break and close below the key 133.00 level. If this occurs, further major support to the downside resides around the 130.50 region, a significant prior support/resistance level. To the upside, the aforementioned doubly-reinforced resistance should continue to serve as key resistance going forward.
By James Chen, Chief Technical Analyst, FX Solutions