Bearish Price Action on EUR/USD
10/23/2008 1:13 pm EST
Focus: FOREX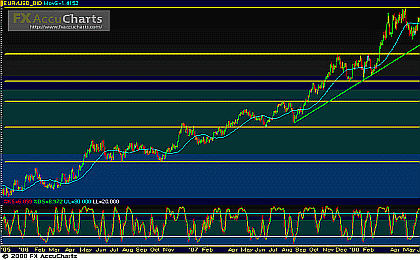 (Price on 1st pane, Slow Stochastics on 2nd pane; uptrend line in green; downtrend line in red; horizontal support/resistance levels in yellow; 50-period simple moving average in light blue.)
Drastically bearish price action within the last few days on the EUR/USD (a daily chart of which is shown above) has continued the steep downtrend in the pair that has prevailed since the second peak of the long-term double top was reached in mid-July.
Currently, the pair has reached a landmark two-year low with no convincing signs of any major near-term reversal. Although oscillators are indicating extremely oversold conditions, extreme oscillator readings such as what we are currently seeing may often be prolonged during strongly trending circumstances. Any continuing downward momentum should eventually target key support around the 1.2450 region, a significant prior support/resistance level.
Before that target is potentially reached, however, corrections and/or consolidations within the context of the overall downtrend should provide some respite from the bearish onslaught.
By James Chen, Chief Technical Analyst, FX Solutions