Is Correction Due for GBP/USD?
10/24/2008 10:57 am EST
Focus: FOREX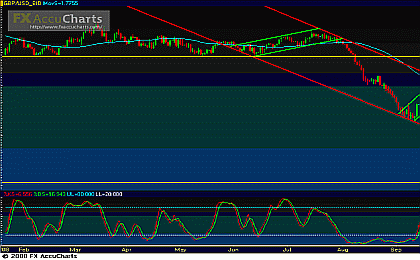 (Price on 1st pane, Slow Stochastics on 2nd pane; uptrend lines in green; downtrend lines in red; horizontal support/resistance levels in yellow; chart pattern in grey; 50-period simple moving average in light blue.)
More than any other major pair, the GBP/USD (a daily chart of which is shown) has experienced a drastic one-way move this week. In the case of cable, this move has been unmistakably to the downside, continuing and even accelerating the downtrend that had already been in place for several months. In the process of the move, a five-year historical low was hit.
The technical catalyst for the down-move was the forceful breakdown below the well-defined triangle formation that occurred in the beginning of the week. A couple days after this event occurred, price went on to break below the bottom support line of the parallel downtrend channel, thereby confirming an acceleration of the downtrend.
As of Thursday (10/23/2008), downward price momentum looks reluctant to abate in any major way, although a correction and/or consolidation should be due as some point soon. Any continuation of the steep overall downtrend could eventually target the 1.5600 level to the downside, a significant historical support/resistance level.
By James Chen, Chief Technical Analyst, FX Solutions