How Institutional FX Losses Can Be Turned Into Retail Profits
10/29/2008 9:55 am EST
Focus: FOREX
Recently, I have been seeing a trend in the news about the impact of forex losses on international companies. More often than not these announcements have been centering on international firms located in emerging economies like China, India, Singapore, etc. This is a huge problem for the global economy. The source of these losses is usually from leveraged forex deposits held in a high-yielding currency. For example, many of these issues are arising from the popularity of deposits in Australian dollars. The yield in Australia over the last few years has been attractive, but the recent decline has been precipitous, which has created the collapse of its own asset bubble.
You can see a weekly chart of the AUD/USD below. The decline in high-yielding currencies like the AUD has put the squeeze on firms with domestic currencies that are or have been appreciating against the USD. This is especially problematic for Chinese companies. As they lose money in forex deposits, their ability to borrow and leverage capital for operations is constrained. Access to capital is the blood of a business, and if that capital gets more expensive or otherwise becomes unavailable, these businesses could disappear. Does any of this sound familiar?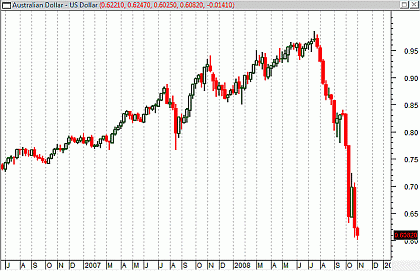 If you think this crisis sounds sort of familiar, it should. Western economies, especially the US, are facing a similar crisis based on an asset bubble of real estate. The losses from those investments constrained capital, increased costs, and have slowed growth. Is China better prepared to weather this storm? No they aren't, in fact, they are much less prepared.
As forex traders, should we care about this crisis? How are currencies likely to react to this issue as it gets worse? Traditionally, when an emerging economy starts to experience a liquidity crisis, investment flees, which further devalues their currency. Tracking where that money is likely to go may help us forecast what currencies are likely to benefit from this shift in capital. The USD and CHF are often shelters in this sort of situation. However, trading the USD/CNY is not the only way to take advantage of this problem. According to the Ministry of Finance in Japan, China is their largest trading partner, and Japan exports as much to China as it does to the US. If the Chinese currency plummets, demand for JPY could also take a major hit. That makes JPY shorts look good again, but for different reasons than it has over the last few years.
When a breakout will occur is uncertain, but like the decline in the AUD, the move should be fast and in one direction. That is great for forex trend traders willing to take some risk and profit from global uncertainty.
By John Jagerson, of PFXGlobal.com and LearningMarkets.com.