Forecasting the AUD/JPY Cross
10/31/2008 12:21 pm EST
Focus: FOREX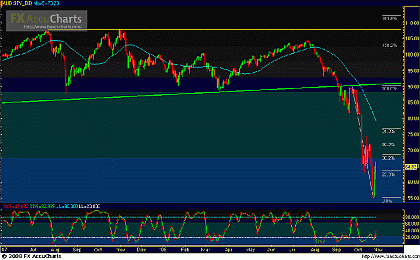 (Price on 1st pane, Slow Stochastics on 2nd pane; uptrend line in green; horizontal support/resistance level in yellow; Fibonacci retracement levels in grey; 50-period simple moving average in light blue.)
After plummeting an unprecedented amount in the last three months, price action on the AUD/JPY carry-traded pair (a daily chart of which is shown) has rebounded a substantial amount of pips off its historical lows around 55.00. This has occurred after a massive carry trade unwinding that shook out even the most determined yield-seekers.
The current rebound has taken price all the way up to a key 38.2% Fibonacci retracement level (the high-to-low retracement span being measured from the swing high on 9/22/2008 to the historical low reached on 10/24/2008) before retreating. Oscillators like the displayed Stochastics are still showing unspent upward momentum, as they are pointing unmistakably up after having just emerged from oversold. Any continued upside momentum that breaks out above the aforementioned 38.2% Fib level could eventually target strong resistance that resides all the way up in the 72.00 region.
Significant support to the downside, on the other hand, resides around the 63.00 level, a prior support region.
By James Chen, Chief Technical Analyst, FX Solutions