Currencies Show US Recession Is Deepening
11/11/2008 10:54 am EST
Focus: FOREX
The dollar reversed earlier losses against most key currencies on Monday. US stocks dropped as a worsening earnings outlook overshadowed China's $586 billion stimulus plan and pledges by the world's biggest nations to bolster economic growth. The uncertainty of the recession severity increased risk aversion and strengthened the yen and greenback. The deepening recession is also making earnings forecasts unreliable. Our latest Globicus LEI shows the US recession will be longer and deeper than most pundits' expectations. This is not necessarily bad for the USD, as it has been supported by risk aversion and falling stock prices lately. The euro pared earlier gains as European economic sentiment weakened and traders increased bets on further ECB interest rate cuts. Sterling fell to the important 1.55-handle support after UK producer price inflation registered a record one-month fall in October. The Canadian dollar declined despite higher crude oil prices
The AUD/USD fell after the pair was unable to penetrate the 0.70-handle resistance. China's official change of its policy stance to "pro-active fiscal policy," a policy last in place after the Asian financial crisis in 1998, and the huge stimulus package, initially supported commodities and the AUD/USD. The pair is recovering from a nearly 40% drop from 0.9848 in the summer to 0.60 on October 27. If the 0.70 resistance is broken, there may be a short-term rally to 0.75 or even 0.80. The Reserve Bank of Australia will likely intervene to defend the AUD/USD if it falls to 0.60.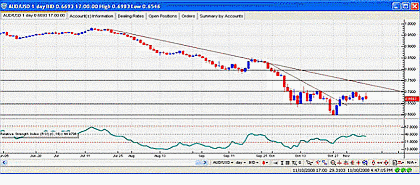 Financial and Economic News and Comments
US and Canada
The Globicus US leading economic index plunged from -4.3 in September to -10.7 in October, the lowest level since the 1980 recession, and is now indicating a deepening recession. The coincident index shows the US economy is deteriorating, contracting at a -3.1 smoothed growth rate in September, down from a -2.2 rate in August. No economic recovery is in sight, as the recession is deepening. We believe the National Bureau of Economic Research's Business Cycle Dating Committee will soon call the current US financial crisis a recession, with the possible peak date of November 2007. The recession will likely be as severe and as long as the 1973-75 recession, and will possibly be the longest and most severe recession of the post-WWII period.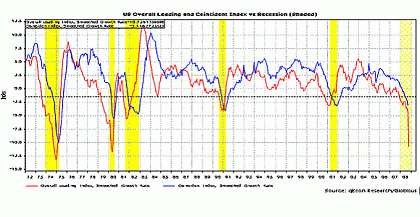 Canadian housing starts declined less than expected in October, totaling 211,800 units on an annualized basis, following September's revised 218,600 total, data from Canada Mortgage and Housing Corp. showed. New home prices unexpectedly rose 0.1% m/m in September, Statistics Canada reported. Overall, the figures suggest the Canadian housing market remains relatively resilient.
Europe
Euro zone investor confidence continued its decline in November, as the Sentix investor sentiment indicator fell more than expected to -36.4 in November, the lowest level since record keeping began in 2002, and following October's -27.8. Despite coordinated global interest rate cuts, financial conditions remain unfavorable, and confidence will likely worsen in the coming months on a possible global economic recession.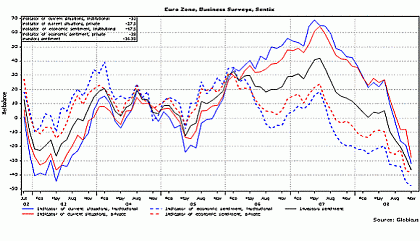 The UK input producer price inflation rate was at 13.8% y/y in October, slowing from September's downwardly revised 24.0% y/y rate, the Office for National Statistics reported. The input PPI contracted 5.6% m/m, after September's downwardly revised 1.7% m/m decline. The UK output PPI rate grew 6.8% y/y in October, slowing from September's 8.5% y/y level. The output PPI fell the most since 1986, contracting 1.0% m/m in October, after September's upwardly revised 0.2% m/m decline. Overall, the decelerating PPI supported the Bank of England's unexpected 150-basis point interest rate cut last week, fueling expectations for further rate cuts.
Asia-Pacific
Japanese machine tool orders plunged 40.4% y/y in October, preliminary estimates by the Japan Machine Tool Builders Association showed, following a 20.1% y/y decline in September. Domestic orders dropped 43.0% y/y, after September's 32.1% y/y decline. Foreign orders fell 38.2% y/y, down from September's 10.0% y/y fall.
FX Strategy Update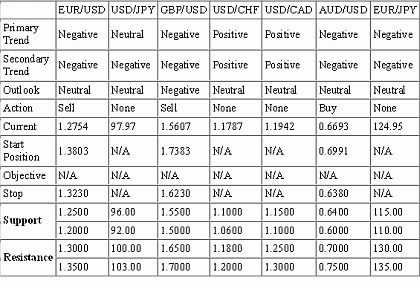 By Hans Nilsson
Capital Market Services, L.L.C.