Double Dip in Non-Farm Payrolls
11/19/2008 2:13 pm EST
Focus: FOREX
Citigroup announced earlier this week that it will be cutting more than 50,000 jobs in the "near term." This is on top of the 23,000 jobs that they have already cut, and will leave the company with approximately 300,000 employees globally. Even though non-farm payrolls dropped by more than 200,000 in September and October, Citigroup's layoffs and job cuts by other companies will drive non-farm payrolls even lower.
The following chart illustrates the double dip trend of non-farm payrolls during the 2001 recession.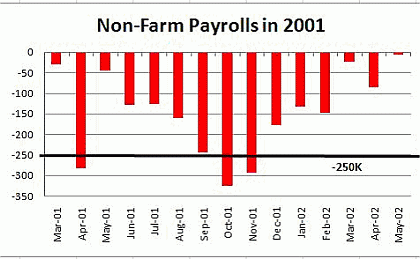 Here are the charts for 1991 and 1981: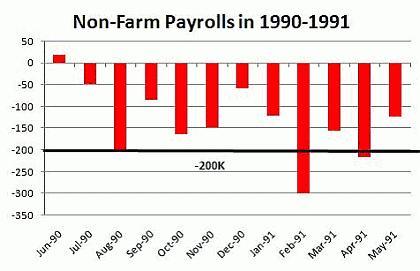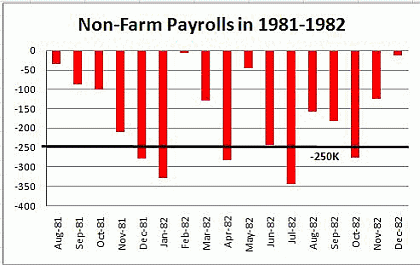 In analyzing non-farm payrolls data during recessions, we see that at the beginning of an official recession-as defined by the National Bureau of Economic Research-non-farm payrolls start to decline rapidly. However, after falling between 200,000 and 300,000, job cuts stall and then pick up once again. We saw this trend in the 1981-1982 recession, the 1990-1991 recession, and during the 2001 recession. I betcha it will happen in this recession as well.