How the US Economy Affects USD/JPY Pricing
09/01/2010 12:01 am EST
Focus: FOREX
Stronger-than-expected US consumer confidence may have helped the dollar recover against the Japanese yen, but with the FOMC minutes expected to highlight the troubles in the US economy, the gains may be short-lived.
A more optimistic outlook on where the US economy is headed helped to drive the Conference Board's index to 53.5 from 51.0 in the month of August. Consumers expect business and employment condition to improve over the next six months, which indicates that not everyone believes in the double-dip (recession) story. Of course, consumer sentiment can change quickly if businesses do not increase hiring, which could be likely given the current downward trajectory of the US economy. Fed officials have been pretty clear in their assessment that growth will be sluggish, which means that consumers may be overly optimistic.
With that in mind, however, the minutes are not expected to contain any surprises following recent comments from Fed officials. The question is really whether or not the reinforcement of concerns about US growth will be enough to drive USD/JPY back towards its 15-year low of 83.59. At the same time, we cannot completely write off the improvement in confidence, because if it is sustained, it could translate into a recovery in consumer spending.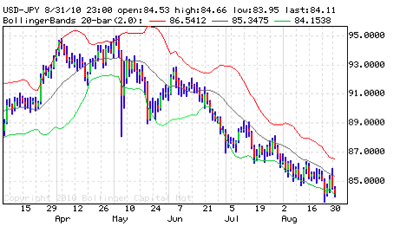 Click to Enlarge
Yesterday, we learned that house prices increased by 1% in June, with year-over-year gains reaching 4.2% percent, which was slightly weaker than last month's 4.6% report. Manufacturing activity in the Chicago region continued to grow at a slower pace with the PMI report falling from 62.3 to 56.7, the weakest since November 2009. Except for supplier deliveries, all of the underlying components decreased with the most pronounced decline seen in new orders and production. The slowdown in manufacturing activity in both the Chicago and Philadelphia regions point to a weaker ISM manufacturing report later this week. It may be difficult for USD/JPY to recover if there are continual disappointments in US economic reports.
By Kathy Lien, currency analyst, KathyLien.com