Will Resistance Hold on AUD/CAD Currency Pair?
09/14/2010 12:01 am EST
Focus: FOREX
By Roger A. Stojsic, technical analyst, GFT Forex
A bearish Gartley pattern developing on the AUD/CAD one-hour chart points to an opportunity to sell the pair in the coming days if prices manage to rally to 0.9609. This level represents the following convergence of Fibonacci and pattern resistance levels:
100% of XA
127.2% of BC
ABCD pattern
78.6% on weekly
The stop for this trade is placed at 0.9643 to allow for secondary pattern completion (characterized by the 161.8% BC extension, 78.6% weekly resistance, and 127.2% ABCD pattern extension). The target is set at 0.9525 (a full 100% retracement of the CD leg). Due to the relatively aggressive target, stops will be moved to break even if prices drop to 0.9578 after entering. With these parameters, the trade offers a strong risk:reward ratio of 1:2.5. Prices must remain above 0.9525 for this trade idea to remain valid.
Notably, there are no high-impact economic data releases scheduled for either pair this week, although surprise economic news or announcements from other countries may, as always, affect the trade. Finally, traders should be wary of any potential gaps over the weekend; conservative traders may choose to wait until the market reopens to avoid the risk of a gap upward in price.
Potential Strategy:Sell AUD/CAD if prices rise to .9609, risking .9643 and targeting .9525. Move stops to break even at .9578.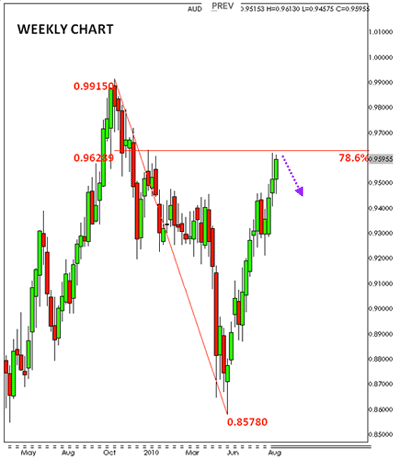 Click to Enlarge