Intermarket Correlations Present Opportunities in Forex
01/26/2011 5:01 am EST
Focus: FOREX
Forex correlations to gold prices and US Treasury yields continue to trade near record highs, suggesting several currency pairs remain good proxies to trade moves in a broad range of markets.
The US dollar/Japanese yen currency pair remains strongly linked to US Treasury bond yields and broader interest rate expectations, making the USD/JPY a good proxy for trading shifts in market sentiment. After falling amidst a broader US dollar decline, the 20-day correlation between USD/JPY and ten-year bond yields has traded close to peaks.
Gold prices continue to trade off of their recent record highs, and the previously high-flying Australian dollar has likewise fallen from post-float records. Though the link between the precious metal and the high-yielding currency has wavered at times, it seems that the currency will tend to track the biggest moves in gold prices with reasonable accuracy.
Below is a chart of forex correlations against oil, gold, and the Dow Jones Industrial Average for the past 30 calendar days.
For non-math majors, the closer the number is to 1.0, the more highly correlated the two items have been. The number is also presented as bigger and bolder in the square. If you aren't able to read the number in the square, it means the two items are not correlated.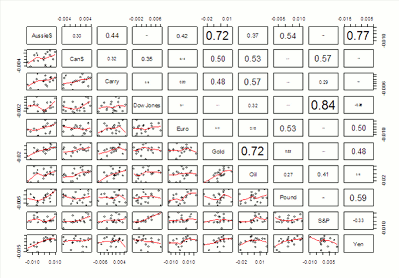 Click to Enlarge
Two notable correlations are explained below:
US Dollar/Japanese Yen and US Ten-Year Treasury Bond Yield
The interest-rate-sensitive Japanese yen has once again tracked moves in US Treasury bond yields, offering a reasonably good proxy for trading shifts in interest rate expectations.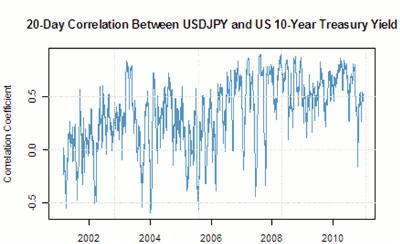 Click to Enlarge
After basing near multi-year lows in October, Treasury yields have remained in a fairly steady uptrend and threaten to break higher after a lengthy period of consolidation. The USD/JPY shows much the same formation, and indeed we believe the pair may continue higher amidst rising yields. The Japanese yen remains a good proxy for trading shifts in broader market interest rates.
Australian Dollar/US Dollar and Gold Prices
The Australian dollar's correlation to gold prices has recovered noticeably through recent trade, as both the precious commodity price and the aussie currency have fallen considerably from previous highs.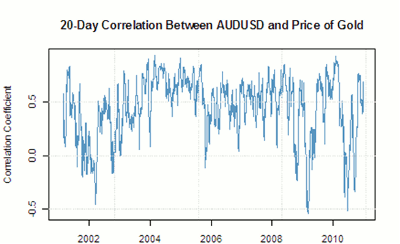 Click to Enlarge
And though we cannot expect the highly volatile AUD/USD pair to match gold's moves on a tick-per-tick basis, it seems relatively clear that said prices will tend to follow the same trends over the same stretch. Given their historically strong link, the AUD/USD seems a good proxy to trade secular shifts in gold market trends.
By David Rodriguez, quantitative strategist, DailyFX.com