Swing Trading Opportunity in EUR/CHF
02/17/2011 5:00 am EST
Focus: FOREX
Seen as a "risk appetite" gauge for Europe over the past few months, the EUR/CHF currency pair appears to have completed its most recent advance.
When sovereign debt concerns ramped up at the end of 2010, the EUR/CHF eroded quickly; when it became clear that more debt relief would flow into struggling European nations, the EUR/CHF pair rebounded.
Accordingly, after hitting significant technical resistance over the past few days, and with sovereign debt concerns beginning to rise to the foreground again, the EUR/CHF pair appears poised to continue its decline in its descending channel over the next few weeks.
Levels to Watch
Range Top: 1.3366
Range Bottom: 1.2288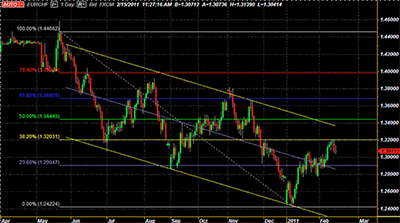 Click to Enlarge
Suggested Strategy
Short: Place an entry at 1.2985 (the 20- period simple moving average (SMA))
Stop: Set the stop to 1.3035 (50-pip risk)
Target: The first target is 1.2952 (50-period SMA). From there, move the stop up to 1.3005. Second target is 1.2905 (23.6 Fibonacci level)
Time Frame: Five to ten days
The EUR/CHF pair has been swing trading in a clear descending channel since the end of May. Recently, much of the direction has been dictated by fundamental risk. However, after touching the 38.2 Fibonacci level at 1.32031 on the May 21-to-January 10 move, as well as finding resistance on the 100-period SMA, the EUR/CHF pair is running out of bullish momentum. Accordingly, the slow Stochastic indicator has issued a sell signal, as the %K at 85.95 has crossed below the %D at 91.06.

While the data calendar looks empty for Switzerland for much of the week, economic data will be pouring out of the euro zone. With significant euro zone data already released earlier (which missed expectations), the table is set for bearish sentiment towards the euro. Data later in the week could be the final catalyst necessary to propel the EUR/CHF pair lower in its channel.
By Christopher Vecchio, contributor, DailyFX.com