Swiss Franc Soars on Safe-Haven Buying
03/18/2011 5:01 am EST
Focus: FOREX
Traders seeking the relative safety of the Swiss franc sent the EUR/CHF currency pair close to the all-time low. More downside movement would lead to trading in uncharted territory…literally.
By Russell Glaser
The Swiss franc (CHF) continues to strengthen on the heels of the disaster in Japan. Last night's sharp decline in the value of the EUR/CHF took the pair close to the 2010 low. Following today's Swiss National Bank (SNB) decision to keep rates on hold, the euro has received a bounce to a technical level and could see further gains before the downtrend resumes.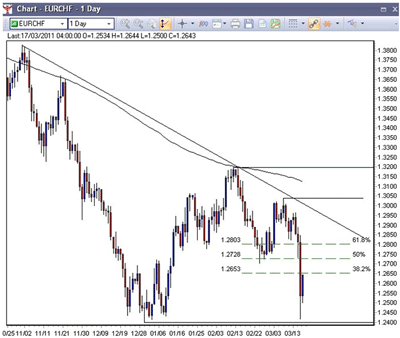 Click to Enlarge
In addition to the yen, the Swiss franc has been one of the strongest performers in response to the natural disaster in Japan as traders flock to the franc as a safe-haven play. In overnight trading, the pair plummeted lower, falling to 1.2416, a level near its 2010 low of 1.2400.
The franc has also benefited from the flare-up of euro zone fiscal problems. Over the past two weeks, Greece, Portugal, and Spain have faced new sovereign debt downgrades by the major debt rating services. A failure by Ireland to reach a deal to restructure the terms of its bailout also does not bode well for the euro.
Yesterday, as expected, the Swiss National Bank kept interest rates steady at 0.25%. In a written statement, the SNB increased their 2011 inflation forecasts to 0.8% from 0.4% while noting inflation expectations have not risen substantially. Growth forecasts were also raised to 2.0% from 1.5%. The SNB has also stated the Swiss economy shows continued signs of improvement.
While the stronger Swiss franc has helped keep inflation in Switzerland under control, a continued recovery and stronger growth may add inflationary pressures. Today's release of stronger-than-expected industrial production numbers is one sign of the strengthening Swiss economy. Q4 2010 industrial production rose by 7.4%, an output significantly stronger than the 4.7% economists forecasted.
In early-morning trading, the EUR/CHF recovered to 1.2650, a level that coincides with a 38.2% retracement from the mid-March high to yesterday's low. Strong selling in the pair could resume at 1.2730, which is near the 50% retracement level. Stops may be found above the resistance at 1.2830.
Should the EUR/CHF collapse once again, a move below the 1.2400 level (the pair's all-time low) would trigger stops and could send the pair further into unchartered territory.
By Russell Glaser of ForexYard.com