3 Reasons to Be Bearish on EUR/SEK
03/31/2011 6:00 am EST
Focus: FOREX
Three proven technical indicators are showing that a correction is now likely following the recent rally in the euro/Swedish krona currency pair, and traders can get in at a highly favorable entry price.
Following the recent bullish session the euro saw against the Swedish krona, it now appears that the pair has reached its peak and may turn downward. Technical indicators are showing that a prolonged bearish correction is likely to occur, giving forex traders a fine opportunity to open up sell positions at a great entry price.
Below is a daily chart for the EUR/SEK currency pair. The technical indicators being examined are the relative strength index (RSI), slow stochastic, and Williams percent range (%R).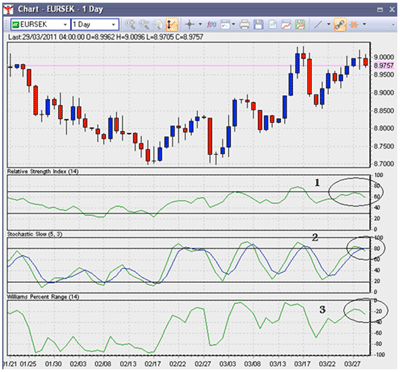 Click to Enlarge
The relative strength index has already breached overbought territory and has turned downward. Traders can take this as a sign that there is a good chance that the pair is likely to move south.


The slow stochastic has formed a bearish cross right on the upper resistance line. This is a clear indication that the pair could see a downward correction in the very near future.


Finally, the Williams percent range has also broken into overbought territory and is pointing down. This lends further evidence to our initial claim that the pair is likely to turn bearish soon.
By Dan Eduard of ForexYard.com