Dollar's Quick Run Already in Trouble
05/25/2011 6:00 am EST
Focus: FOREX
Eurozone debt concerns have caused the US dollar to rally, but here at the onset, there's already reason to believe that dollar gains will be short lived. Here's what to watch in coming sessions.
The dollar index climbed smartly for a second consecutive day as euro liquidation continued apace as fears continue to mount regarding the solvency of Greece, Italy, Spain, and Belgium. As spooked investors sought safety in gold and safe-haven currencies, equities took a beating alongside riskier, higher-yielding currencies.
As a result, the buck added another day of gains and nears the key 9800 dollar index level as the euro/dollar (EUR/USD) looks to test support of 1.40 and the 100-day simple moving average (SMA) just below. Once these are taken out, we favor the index retaking the 9800 level.
Here's yesterday's close and open. This is a good example of how we monitor the currency markets based on news events.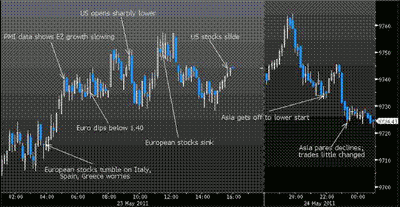 Click to Enlarge
However, despite being bullish on the US dollar (USD) and bearish on the euro at present, we see the possibility arising whereby USD gains are already beginning to peter out.
Looking at this daily chart below, we see the extreme right candle is currently in negative territory as the market consolidates recent moves.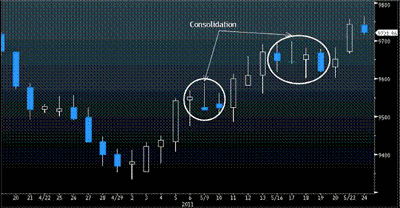 Click to Enlarge
This fits perfectly into the recent trend whereby the index has made sharp, significant gains in a short period and then consolidated.
Where we see some cause for concern is the shortening period during which the index is climbing. Off its lows in early May, the dollar index climbed for five consecutive days, and then consolidated. The next spurt was only three days before consolidating, and most recently, the index only climbed for two days and is now consolidating.
While it is certainly too early to say the dollar's run is over, we will be watching this space very carefully to see how things develop in coming sessions.
By Jonathan Granby, contributor, DailyFX.com