Range Trade Set-Up for GBP/USD
08/17/2011 7:00 am EST
Focus: FOREX
Weakness in both the British pound and US dollar is likely to keep the GBP/USD currency pair confined to its recent range, and traders can profit from moves off of nearby support and resistance.
The British pound (GBP) has been the wallflower of the forex markets in recent months, and it doesn't look like much will change, as problems in Europe and the US look set to dominate matters.
Today, we take a closer look at GBP/USD as currency pair to watch. It's time for traders to get ready to do some range trading.
The pound has been in a stubborn range versus the dollar for most of August. It is fast approaching the top of this range at 1.6420/1.6430, a level that could trigger some weakness.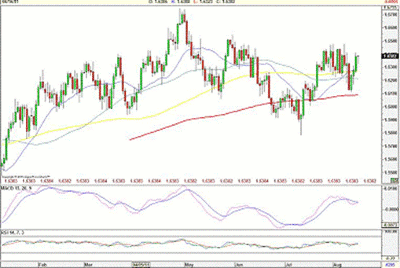 Click to Enlarge
In addition to this, a daily hammer pattern has formed on the candlestick chart, which also suggests a reversal is due.
The UK economy is weak and the pound remains at risk from a bout of risk aversion.
Strength above 1.6400 seems like a stretch. There are problems in the US, however, which may limit the dollar's strength, so we think that the level of 1.6300 could be met initially, and if it goes even lower to 1.6200, the 55-day moving average around that area will act as solid support for the pair.
By Kathleen Brooks of FOREX.com