FX Cross Trade with Big 4:1 Reward
02/02/2012 9:25 am EST
Focus: FOREX
While many currency traders are focused heavily on the dollar and euro, the CAD/JPY pair is now offering a potential set-up that offers an outstanding four-to-one reward/risk ratio.
The US dollar index (DX) futures have been flirting above and below the 79 support level. Last week, the index tried to shake out the weak hands with a close just below that level on Friday, and it may be doing the same thing this week.
I still think DX long positions are one of the best risk/reward set-ups in the markets right now if the index can maintain that level around 79 and not drop too far below. I would like to see the DX quickly get back above 80 to confirm support in this area.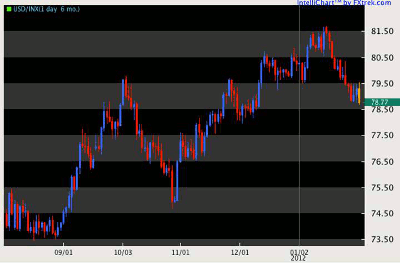 Click to Enlarge
The euro is really the big reason the DX would find support, as it is rolling over in the low 1.30s and is the largest component in the US dollar index. We all know about the issues in Europe, and the euro is really the only currency right now that looks technically weak against the US dollar. For that reason, I have shifted most of my US dollar long exposure from long DX into short euro.
See related: How to Short the Euro with Less Risk
Longer term, I think the euro could easily trade back to parity against the US dollar, and shorter term, I would look for the downtrend to resume once we break back below 1.30 (see the euro chart below).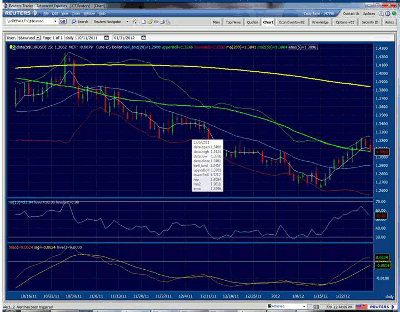 Click to Enlarge
While obviously a lot of traders' focus has been on the US dollar recently, it helps for diversification purposes to look around for other currency crosses with actionable technical set-ups. With the recent strength in the Japanese yen, one currency cross I think looks particularly interesting here in the Canadian dollar/Japanese yen cross (CAD/JPY). The longer-term trend is still clearly down with this cross trading below the 200-day moving average (MA), but I think the shorter-term trend is turning up.
I would look to buy the CAD/JPY cross below 76, and I think you are risking 75 for a move to 80 or possibly higher. I'll take a four-to-one reward/risk trade any day, especially in a cross that won't be as correlated to some of my core US dollar long positions. The CAD/JPY chart is shown below.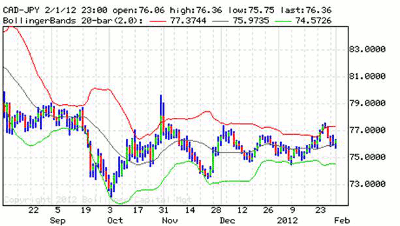 Click to Enlarge
You can find more currency trading charts here.
By Cody Tafel, contributor, Minyanville.com