Does "Sell in May…" Work in Forex, Too?
05/13/2014 9:00 am EST
Focus: CURRENCIES
The traditionally difficult summer months in the equities markets do not routinely carry over into currencies, writes Kathy Lien, and FX traders who follow the old adage can leave plenty of potential profits on the table.
There is a very old saying in the stock market that says "Sell in May and Go Away." This pertains to the notion that investors should cash in their investments and take the summer off because June, July, August, and September have traditionally been some of the worst months in the equities market.
See also: Is This the Year to Buy in May?
Over the past decade, this adage has held true. If you were to sell the S&P 500 at the end of May, you would have avoided a loss over the past ten years. For the EUR/USD, however, you would have lost out on a gain, although selling USD/JPY in May would have been a great idea because the currency pair fell steeply between June and September.
Looking beneath the hood, however, the decision to sell in May and go away for the summer is not so easy for currency traders because doing so in 2009 and 2010 would have caused the trader to miss out on big gains in the EUR/USD. Between June and September 2009, the EUR/USD appreciated more than 3%, and in 2010, it rose nearly 11%.
This year, there is a reasonable chance that stocks could continue to fall, leading to more risk aversion in currencies because US data has been mixed and central banks are returning to easier monetary policies. However, following seasonality without following stories blindly would be a big mistake.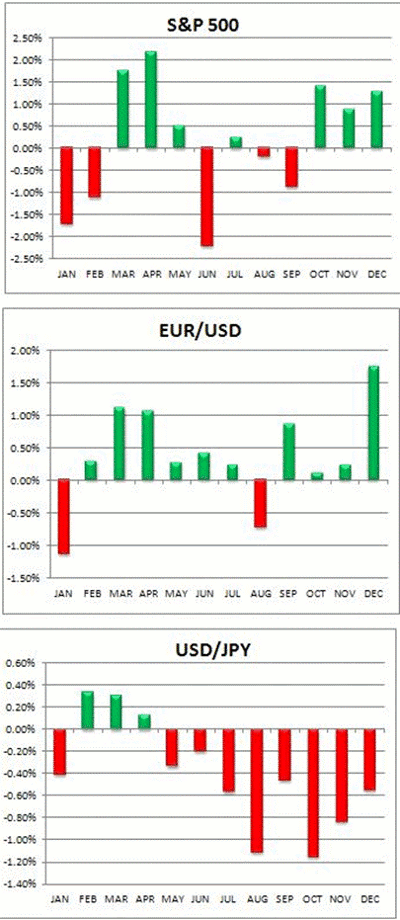 By Kathy Lien of KathyLien.com