A Scary Pattern in the Euro
06/29/2012 8:00 am EST
Focus: FOREX
Greg Harmon of Dragonfly Capital highlights several patterns in the euro chart that could spell lower lows for the battered currency.
The euro has had a rough road in the press with all the concern about the situation with the European economies. Austerity, dissolution, broad economic woes...it should be all over the map.
Yet it has traded in a fairly tight range since March. The chart below shows that is when it completed an AB = CD pattern move.
It then went into a descending triangle since, with a base at 1.30, and spent quite a lot of time at the 38.2% Fibonacci of the major move lower from 2009 to 2010. At about two-thirds of the way into the apex was a prime area for a move from the triangle to be powerful.
As I mentioned previously, a breakout would expect a five-handle move, or to 1.25 on the downside, below the January low and the 23.6% Fibonacci.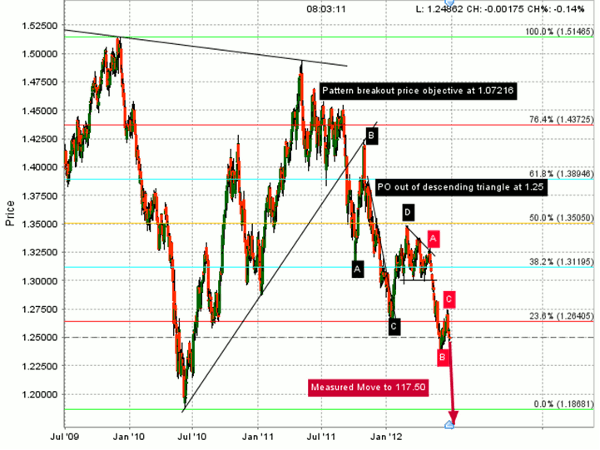 Click to Enlarge
That move to the upside would take it beyond the 1.35 top at D and the 50% Fibonacci. Either would look like a new longer-term trend.
With all the news, what could be the catalyst? Well, according to George Soros, the euro could be seeing its last days as we know it. He recently cut his call for action from three months down to a few weeks. That may well be, but since we last looked at the fragile currency, it found that catalyst and made a major move lower, tagging the target at 1.25 before bouncing.
Now reversing that bounce it gives a target lower on a Measured Move to 1.1750. This would take it below the 1.18681 low from 2010 and fully unwind the move higher. There are only two points of support along the way, at 1.2333 (the red B) and 1.2150, before a test of that 1.18681 low.
Of course, if George is right, it will not stop at 1.1750, and the next target is 1.07216, the bigger wedge pattern breakdown. Time will tell, but the price action is all pointing lower.
Greg Harmon can be found at Dragonfly Capital.