Trade Review: The Triangle Pattern Entry
07/04/2012 8:00 am EST
Focus: FOREX
Huzefa Hamid, contributor to DailyForex.com, highlights a trade based on the triangle pattern.
In my previous articles on the Triangle pattern here, we looked at how triangle patterns can be used to find entry points in trends and breakouts.
A colleague sent me an example of a live trade he caught last Friday that he entered when he spotted a Triangle pattern on the AUD/USD.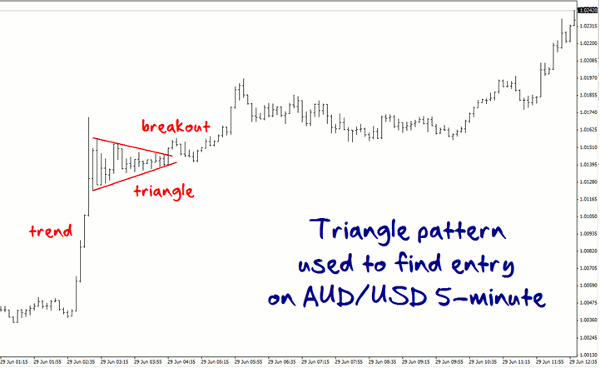 Click to Enlarge
This is a very simple but effective trade entry. The AUD/USD on the five-minute chart had broken out into a clean trend, but it was also a rapid move.
The risk of jumping into rapid moves such as these is that the price can pull back the second you get in. You either have to have a very wide stop-loss or have a stop-loss that could be easily broken because the entry was timed incorrectly.
In this case, the price consolidated into a nice Triangle after the initial trend/breakout. This gave my colleague a long entry in the Triangle itself, with a stop-loss under 25 pips just below the Triangle.
Zooming out of the chart, it's important to note that the Triangle sat nicely above the last key resistance: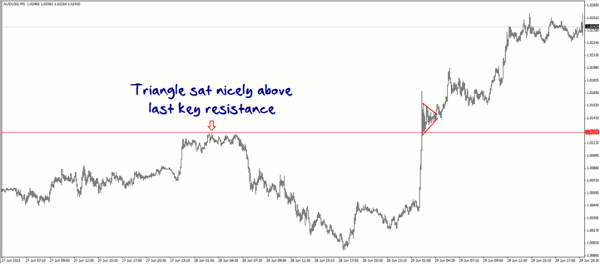 Click to Enlarge
This allowed the price plenty of headroom to move up. In this case, my colleague netted +50 pips (over a 1:2 risk/reward ratio).
Huzefa Hamid is a contributor to DailyForex.com.