Trade Review: Why Patience Truly is a Virtue
11/06/2012 6:00 am EST
Focus: FOREX
Traders can sometimes learn more from trades that didn't go exactly as planned, rather than very successful ones, highlighting the importance of reviewing your trades. Here, Mike Kulej of FXMadness.com reviews some of his most recent trades and shares the outcomes.
Most of the trades in my latest posts took a long time to develop. Not very surprising, considering that I mostly focused on higher magnitude time frames. At the same time, though, must admit that my original timing was off the mark, as markets largely moved in the opposite direction. In the past few days, however, the currency pairs of interest reversed with price swings large enough to create trading opportunities.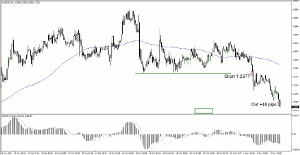 Click to Enlarge
A week ago, I discussed the AUD-NZD, using the hourly chart. On this time frame, the price formed a likely topping pattern, with a solid support at 1.2582. A break below this line meant a short entry. It took a long time, almost the entire week, but the move eventually materialized. My objective was roughly at 1.2520, and for all practical purposes, the price reached it late on Friday. I blew it a little having closed the trade about an hour before the closing. Overall, though, this transaction worked out as planned, even if not immediately.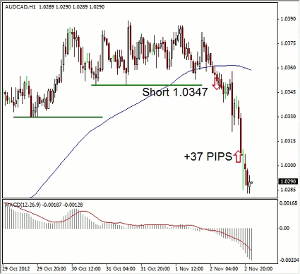 Click to Enlarge
Delayed reaction appears to have been the theme of my latest trades, severely testing my patience. Perfect example is the AUD-CAD, where I started to look for a selling opportunity at 1.0155, following a much quicker trade. Sadly, the price rallied to almost 1.0400 before my trailing order was hit, much higher than I had anticipated. On Friday, however, the AUD-CAD dropped under its latest resistance, allowing for a short entry at 1.0347. Clearly, my exit at 1.0310 was a little wasteful, but I did not want to carry this trade over the weekend and the last few hours proved to be more dynamic than latest history would suggest.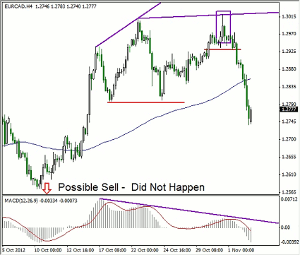 Click to Enlarge
The EUR-CAD turned out to be even more trying pair. Some of it had to do with a larger time frame as the 4H chart certainly demands more time commitment. The sell at 1.2570 obviously did not play out, but I was intent on catching the eventual selloff/pullback. In the aftermath of a divergence at the 1.30 handle, the price almost dropped to the new support at 1.2800. A few days ago, the EUR-CAD formed another divergence with the MACD, with a more convincing topping point. Still, I did not want to trade it, so I switched to the hourly chart, looking for a support level to use.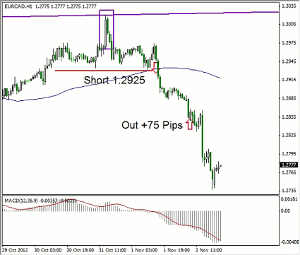 Click to Enlarge
On this graph, we can see a clear support line at 1.2930, which is also the neckline of a nice head-and-shoulders pattern. A probability for a reversal was high at this point, making a strong case for a sell. This pair is more volatile, so the trade produced decent results, 75 pips in short order. I will still review the 4H chart, which could still develop another sell opportunity, with perhaps better potential.
By Mike Kulej of FXMadness.com