Trading Inside Day False Breakouts
Focus: FOREX
Candle patterns can give visual insight into market psychology and suggest changes in sentiment, which is useful in finding market reversals. Nick Simpson of Forex-FX-4X.com writes about one of his preferred strategies.
An inside day candle is a setup, which has the current candle engulfed within the prior day's range. This pattern is the opposite of an engulfing candle. Anyone looking to understand the inside day candle pattern should start with the inside bar analysis tutorial, which looks at this popular price action setup in detail.
False Breakout Before The Real Deal
The false break of an inside day price action setup can sometimes be a hint that the break of the other extremity will be the real deal. The following chart excerpt shows an inside day (daily chart) and price initially gives a breakout to the downside.
Notice how price did not sustain the downside momentum but actually closed above the inside day low. The next day had a break of the upside and this came with strong momentum-actually marking a significant swing low.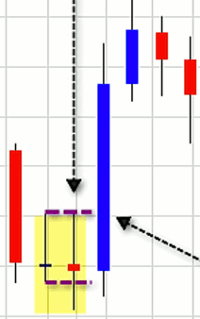 Click to Enlarge
Daily highs and lows are often surrounded by clusters of orders as technical traders look to fade or trade breaks of these levels.
---