More Falls Ahead for EUR/USD?
11/29/2012 9:00 am EST
Focus: CURRENCIES
After a short-lived euphoria, the markets seems to have lost interest about the agreement between the Eurogroup and the IMF over Greece's debt, writes Yohay Elam of ForexCrunch.com, which doesn't bode well for the euro.
EUR/USD got close to the long-term downtrend resistance after the Greek deal was announced, but as the details remained unconvincing, the pair retreated. However, it didn't retreat too far, making this line very relevant. In the next possible encounter, will it continue falling or break down once again?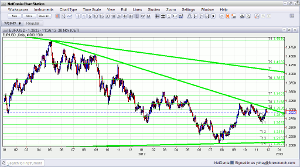 EUR/USD Long-Term Downtrend Resistance Daily
Click to Enlarge
The line dates back from 2011, when euro/dollar peaked at 1.4940. It worked very nicely since then.
EUR/USD dropped after a false break above the 1.30 line. It led to fall that sent the pair as low as 1.2912 before some "dead cat bounce". The shallow bounce could indicate more falls.
Here is another look at this line, this time on the weekly chart: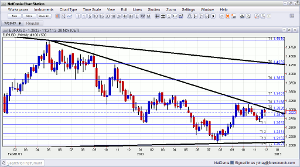 EUR/USD Long Term Donwtrend Resistance Weekly
Click to Enlarge
The fact that the Greek deal could not move the currency above the 1.3000 level does not bode well for further advances. Unless the fiscal cliff negotiations completely break down, which I doubt, the pressure on the EUR into year-end should continue.
By Yohay Elam, Founder, Writer, and Editor, ForexCrunch.com