Aussie Headed Further Down Under?
03/11/2013 9:00 am EST
Focus: CURRENCIES
The Australian dollar remained under pressure, though the RBA gave Aussie bulls a reason to rally last week, and Jack Crooks of Black Swan Capital thinks it still might have a long way to go.
We shared this long-term chart of AUD/USD with our clients recently. I find it amazing. It shows a perfectly symmetrical three-wave pattern spiking, indicating a top in the Australian dollar.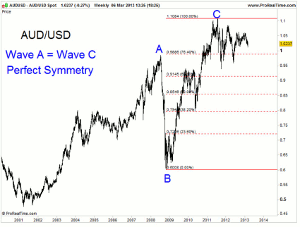 Click to Enlarge
Of course, this pattern is fractal, i.e. on smaller scales. I have found it much easier to trade FX markets utilizing a 3-wave pattern analysis for both impulse moves and corrective moves as opposed to searching for the perfect 5-wave impulse move that Elliott defines. So I guess, the Black Swan trading style for forex can be defined as A-B-C. Viewing the market in threes, and only threes, to define a completed move whether hourly, daily, weekly, or monthly has paid off nicely for us.
From market view, if we are right about our call a few months ago that the commodities supercyle is indeed over, then it makes sense the Australian dollar would continue to work lower with the commodities complex (there is a reason the Aussie is referred to as a "Comdol." That is fancy forex trader talk for "commodity dollar.")
But there is another reason why I particularly like the short side of the Australian dollar—there still seems to be a rather large embedded premium in the currency. Why do I say that? Well, if longer term, the Aussie remains true to its commodities roots, comparing a chart of commodities index suggests the Aussie has a long way to fall to catch up.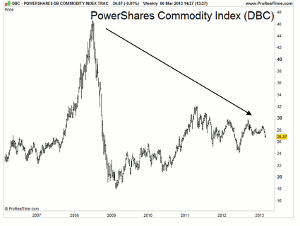 Click to Enlarge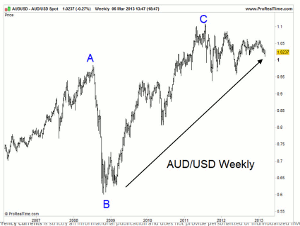 Click to Enlarge
Maybe I am just "talking my book." Our global macro clients continue to hold short oil and short gold and are looking to enter short US stocks.
I noticed this headline today on the wires: Stocks rallying on growth optimism. I keep asking myself, if there is so much growth out there, why is the commodities complex diverging from the stock market? I am sure we will have an answer soon.
Jack Crooks, President, Black Swan Capital