Clues for Euro Traders
04/03/2013 9:00 am EST
Focus: FOREX
Many have been forecasting the demise of the single currency for years now, and Anna Coulling of AnnaCoulling.com attempts to debunk the rumors.
Following the minor drama in Cyprus, which has seen the euro selling off against most major currencies, the question everyone is asking, is whether we are witnessing the last rites for the euro. If the EUR/GBP is anything to go by, the answer is a resounding NO.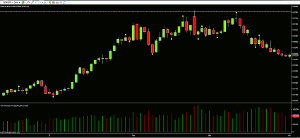 EUR/GBP – Daily Chart
Click to Enlarge
Whilst the shooting star candle of the 12th March with its isolated pivot high in the 0.8800 region, was the initial trigger, the move lower could hardly be described as dramatic, and certainly a world away from the usual price waterfall normally associated with a strongly bearish market. Indeed, in the last two weeks, the trend lower could best be described as a gentle decline, and last week's price action on the down candles, was characterized with narrowing spreads, symptomatic of a market that is slowing down, rather than one which is accelerating.
This is a classic signal of a market that has run out of steam and is now moving into a consolidation phase, with a possible reversal to follow. Indeed the daily volumes also support this analysis, with well above average volume on Wednesday through to Friday, and coupled with narrow spread price action, only suggests one thing. That this is buying volume, absorbing the downwards selling pressure, and preparing to build a campaign higher from this level.
The key for the short term is to see this technical level hold in the 0.8430 region, and provided it does, then expect to see the pair move back to test the 0.8550 region in due course, and from there to build towards a re-test of the 0.8800 area in the medium-to-longer term. For any sustained move higher, we will need to see this reflected in rising daily volumes, supporting any bullish trend.
By Anna Coulling, Professional Trader & Blogger, AnnaCoulling.com