Is Aussie on the Verge of a New Trend?
05/07/2013 9:00 am EST
Focus: FOREX
Although this currency pair has been in consolidation for over a year now, news releases due out this week could provide the catalyst for strong moves shortly, notes Mike Kulej of FXMadness.com,
This week is full of important fundamental news releases with the potential to create volatility in currencies. Perhaps the most susceptible to a large price swing is the Australian dollar. After all, there are two huge events for the Aussie on the calendar—the RBA interest rate decision on Tuesday and the employment data on Thursday. Combined, they could easily be the catalyst forcing a new major trend in the AUD/USD and by extension, other crosses as well.
Most analysts predict the rates to remain unchanged, but there is no consensus. Growing number of market observers see the RBA as cutting its benchmark, which almost certainly would send the AUD lower. After weak or even outright bad numbers last month, another soft employment report would also be bearish for the Aussie. If the Australian dollar responds in the same direction after both announcements, we could see the start of an important, longer-term price swing.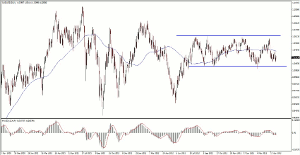 Click to Enlarge
This confluence of potentially strong catalysts is happening at a time when the technical picture also supports formation of a new trend. On the daily chart, we can see how the
AUD/USD
has spent several months in a relatively narrow range of about 500 pips. "Relatively," because prior to this consolidation, the Aussie had been much more volatile. In addition, the duration of this lifeless period suggests a more directional behavior sooner rather than later.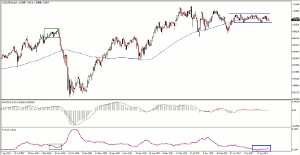 Click to Enlarge
The weekly chart also reveals some interesting details supporting a new trend sometime soon. Here, we can also see the tight consolidation, perhaps even better defined than on the daily chart. Price action is even tighter than in 2008, right before the huge selloff of the decade, as indicated by the ATR. Now, it does not mean that we will experience another monumental collapse, but is suggestive of conditions ripe for more directional activity ahead. Whatever happens, both the RBA meeting and the employment data should create plenty of volatility in the Australian dollar.
By Mike Kulej of FXMadness.com