Currency Pair in Search of a Breakout
05/15/2013 6:00 am EST
Focus: FOREX
Everyone's favorite trade this year usually involved the Japanese yen, and Mike Kulej of FXMadness.com, has his sights on one setting up right now.
Monday was relatively quiet for currencies, with most of the actively trading pairs moving in fairly tight ranges. The opening itself failed to deliver volatility, even after a few gaps showed up. They were small, about 20 pips or so, and prices did not continue in those directions. That made gap trading unattractive, with small potential and little activity. I looked at other options, as the EUR/JPY outlined in the last post.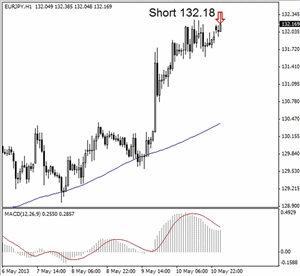 Click to Enlarge
For this particular transaction, I wanted to see a bearish reversal candlestick pattern on the hourly chart. A positive development for this set up was the new price high for the trend. The EUR/JPY ran up to 132.38 but immediately retreated, forming a shooting star in the process, which I saw as a low-risk entry for a short. The actual trade happened at 132.18, seeking 40 pips.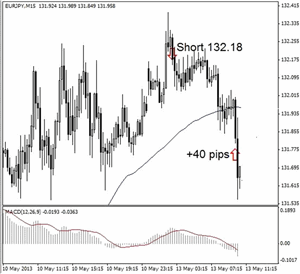 Click to Enlarge
While the EUR/JPY was among the most active pairs on Monday, its total daily range was very small, at least when compared to recent volatility. Still, that was enough to reach my objective, making it a decent trade for prevailing market conditions.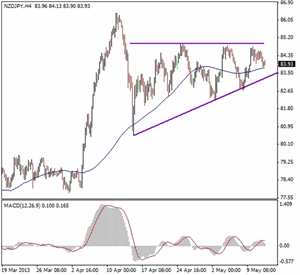 Click to Enlarge
Looking at a larger-scale chart, the intermediate-term graph of the NZD/JPY appears interesting. Following massive volatility in April, the price has settled into consolidation, which by now assumed the shape of an ascending triangle. Slowly but surely, the NZD/JPY is nearing the breakout stage. The pattern suggests an upside move, although I am neutral at this point. Once the move starts, the market itself will dictate direction to trade. In all likelihood, we will not have to wait too much longer for the breakout.
By Mike Kulej of FXMadness.com