Interesting Currency Divergences
06/07/2013 9:00 am EST
Focus: CURRENCIES
Disappointing economic data from around the world has resulted in choppy currency markets, and Greg Harmon of Dragonfly Capital examines the charts for clues on what to expect next.
All eyes are focused on the Japanese market. The "smart money" is supposedly unwinding their position in Japanese stocks and buying back their short yen. The chart for the yen proxy, the FXY ETF, does show this. The rounded bottom moving higher, with a rising relative strength index (RSI) and a rising moving average convergence divergence indicator (MACD) for support for further upside only have the top Bollinger band and the 50-day simple moving average in the way of a breakout higher.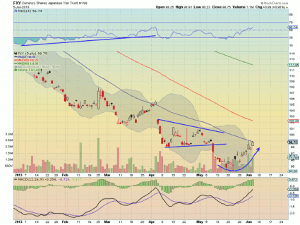 Click to Enlarge
It has been here before, so express yourself cautiously. But other major currencies are also moving higher. The euro (FXE) has been rising since May 17. It also has support for continued upward price movement from a rising RSI and MACD. And look at the British pound (FXB). Rising since May 22, it is now breaking over its 100-day SMA and has support to keep going from that same rising RSI and MACD.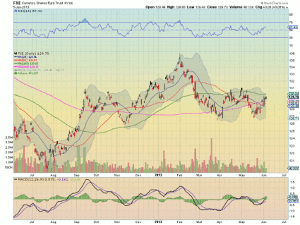 Click to Enlarge
So the yen, euro, and British pound all happen to be rising against the dollar and all started at about the same time. Interesting. These three currencies happen to make up over 83% of the US dollar index. And the US Dollar Index is falling, hmmm.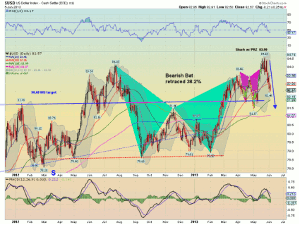 Click to Enlarge
So what if this wasn't driven by the "smart money" unwind on Abenomics? What if it was all orchestrated by the US Treasury? Has Jack Lew made friends that quickly? If instead of watching the yen or the euro or the pound, you look to the US dollar index, then there are some clues as to where this may end. The bearish shark on the right of the chart is at the second downside target at 84.60 and the next target lower would be to 81.37.
By Greg Harmon of Dragonfly Capital