Dead Cat Bounce Brewing in CommDolls?
06/28/2013 9:00 am EST
Focus: CURRENCIES
Commodity dollars have sustained sharp losses lately in the face of a strengthening greenback, but Greg Harmon of Dragonfly Capital sees two interesting potential plays in the works.
The commodity currencies got hit hard and fast last week. But it looks like a turn around may be brewing. The chart below of the Currency Shares Canadian Dollar Trust (FXC), the ETF which is intended mimic the price movement in the Canadian dollar, shows the volume subsiding after a big build up on the drastic move lower. There is also the relative strength index (RSI) turning up with a moving average convergence divergence indicator (MACD) that has stopped dropping on the histogram. Even if it only retraces 50% of the last leg lower, that is a sizable move for a currency.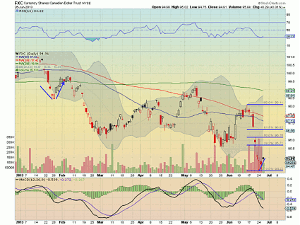 Click to Enlarge
The Australian version (FXA) is also improving but is not quite as strong in its bounce as this point. Filling a downside gap with a MACD histogram that is nearly back to zero, with the signal line flat and a RSI that may be rising. It is very extended from the falling 50-day simple moving average (SMA) so a bounce could alleviate some oversold pressure.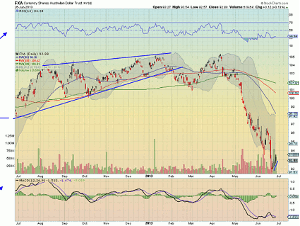 Click to Enlarge
But what is maybe more interesting is that these commodity currencies have been highly correlated with commodities, and in particular gold. A bounce and fall back, otherwise known as a dead cat bounce, may be enough to play for in the currencies. But if the bounce holds and continues higher, then maybe it is time to dabble in gold.
By Greg Harmon of Dragonfly Capital