3 Tips for Trading a Daily Chart
12/18/2013 9:00 am EST
Focus: FOREX
Identifying the trend, waiting patiently for trading opportunities, and managing risk are the three most-important steps to successfully trading with daily charts, writes Walker England of DailyFX.com.
Novice and veteran traders trying to trade the forex market with daily charts run into a variety of hurdles. Often these longer-term graphs can be deceptive and have traders falling for predictable mistakes. To help combat some of these issues, today we will review three helpful tips for daily chart traders.
1. Find the Trend
The first tip for trading a daily chart is finding the trend! One of the benefits of trading the daily chart lies in the long-drawn-out moves of the forex market. One way to identify the trend is to look at half a year's worth of price data, or roughly 180 periods, and then identify the swing highs and lows created by price action. While this number of periods can be moved up or down to your liking, having a reference will keep you from looking at too much price data, which substantially increases the difficulty of finding the trend.
Below is an example of a six-month trend on the EUR/AUD. Going back and referencing this price data on a daily chart allows us to identify market direction, while creating a trading bias. If the trend is up, daily chart traders will wait patiently and look for opportunities to buy the market. At no point should we consider trading against the trend.
EUR/AUD 1866 Pip Daily Trend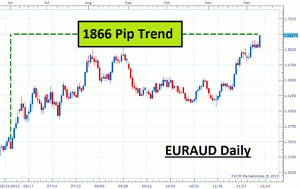 Click to Enlarge
2. Remain Patient
Why go through all the pains of finding a trend, and having a market trading plan if you aren't going to use it? Daily chart traders need to avoid the bug of having to be in the market now. This can be incredibly difficult especially if you are watching markets on a daily basis. Remember that trading with daily candles may only yield one or two appropriate positions on a single currency pair for a whole year. This means staying out of the market and keeping your trading capital free until an opportunity emerges.
The easiest way to remain patient is to keep a trading journal and join a trading community. In my experience, this allows you to hold yourself accountable for following your trading strategy. For instance if you are trading with CCI on a daily chart, such as the example below, your trading journal should only show two entries! If your report is showing something different, it is time to reevaluate your trading plan.
EUR/AUD CCI Entries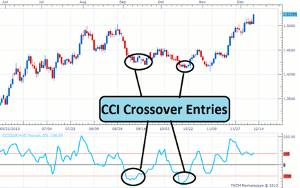 Click to Enlarge
3. Use Larger Stops and Less Leverage
Traders who are trading on a daily chart should be aware of the larger intraday swings of the market. The main focus for this is to avoid being taken out of the market prematurely. One indicator a trader can use for this is ATR (Average True Range). ATR can help you find the average movements for a pair for a given period of time. Once this value is found, you can use a multiple of ATR to go about setting the risk/reward level of your choosing.
Remember, using larger stops doesn't mean you have to put more capital at risk. One frame of reference is to never risk more than 1% of your account balance on any one trade. Using this rule, traders can still trade conservatively even on a daily chart by limiting their leverage. Even if you are trading with a large or small account balance, if you are having problems with this, consider using smaller lot sizes.
By Walker England, Trading Instructor, DailyFX.com