Ride the GBP Wave Higher
01/24/2014 9:00 am EST
Focus: CURRENCIES
As the British pound surged to its highest level against the US dollar, technician Greg Harmon of Dragonfly Capital offers a few trade ideas.
There is deep, rich tradition in the UK surrounding the pound sterling. Those of you that are old enough might remember the fervent debate and staunch defense of it standing alone and strong during the birth of the euro. But really since the financial crisis hit it hard in 2008 into 2009 the pound has done little. It has traded mainly in a range between 150 and 165 against the dollar. Technically it has struggled to retrace even 38.2% of the down move. That may have changed in July.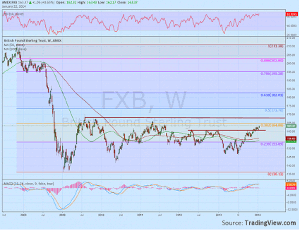 Click to Enlarge
I am not a currency trader, so those of you who are have likely been playing this move higher from July already (and in the currency not the ETF FXB shown here). It was then that a double bottom was made and it has been rising since. It stalled for a brief time when it hit the top of the 'W' and consolidated and is now moving higher again.
Which brings us to why it may be interesting from a trading perspective. Zooming in on that chart shows the potential to retest the high from the bounce in 2009. There is a measured move to 166.48 and then to 168.16, which would take it over that resistance. Getting in today against a stop at 161 gives a defined downside toward that top with potential for much more if this is the time that it finally breaks the range. Click to Enlarge
Looking back at that broader chart shows a break of the range has resistance next at 176.25 and then the 184 area. A 2:1 reward to risk ratio (should it stop at the previous high) is not all that impressive, but still not that bad. But a run up to 176.26 increases that to over 5.4:1 though. If instead you play this trade using the June 163 calls (offered at $2.95 late Wednesday) you get four months for the pound to rise and define your downside.
By Greg Harmon of Dragonfly Capital