Trading in the Post-Holiday Forex Market
04/21/2014 9:00 am EST
Focus: CURRENCIES
There have been numerous studies on seasonal tendencies of various asset classes, but here Tom Cleveland on ForexTraders.com explores a not-too-often-mentioned pattern observed in the forex market before and after long holiday weekends.
Treasury managers across the planet for multinational corporations were scurrying about last week in preparation for an event that rarely happens during the year—a four-day holiday weekend. It is truly a rare occurrence for banks and trading markets to be shut down for a 96-hour period. There are actually laws in the United States that prevent banks from being closed for more than 72 hours, but not so in many other countries in every region of the world. In Europe, it is called Easter Monday, as it is in British Commonwealth countries and others that couple Good Friday with the following three days to take time off for both family and religious reasons.
Are you prepared from a trading perspective for the next few days? Treasury managers were busy hedging their foreign exchange exposures, primarily with options, but issuers of those options were also busy locking down their positions in the market, as well. These activities lead to anomalies in market activity that can provide an advantage for those that are willing to take a chance.
Veterans, however, rarely encourage trading during the periods leading up and following extended holidays. The reasons cited mostly have to do with lower liquidity, wider bid/ask spreads, and whipsaw reactions to the slightest hint of event risk in the market, since a good portion of the trading community will be away from their desks, enjoying the festivities and the time off for good behavior. The sage advice is to join the revelers, since there are always new opportunities around the corner. You won't miss anything.
But wait—what about post-holiday trading? Let's begin with the following chart: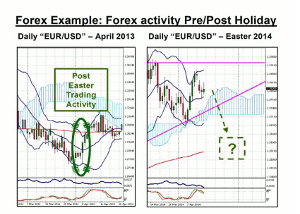 Click to Enlarge
Believe it or not, there have been studies conducted to determine if there is a repeating pattern before and after holiday periods. John Kicklighter, one forex industry strategist, approached the topic from a highly skeptical position, but then was amazed at what he found. Here is a brief summary of his findings:
As expected, volatility and trends curbed their intensity, leading up to the holiday period. As market participants hedged their risks, a tight range formed. Without the disruption of a holiday, the momentum of prevailing trends might continue on until an economic event or profit taking stalled the pricing exuberance;


The holiday literally caused the market to stop and ponder the situation with a higher degree of scrutiny;


The resulting complacency gives way to a re-evaluation, and, in many cases, a strong move to change course takes hold, and a reversal occurs;


The activity of the USD, S&P 500, and VIX around holidays heavily favors a reversal on a statistical basis.


The above chart presents the daily pricing behavior of the EUR/USD pair over Easter for both last and this year. In 2013, the market gapped lower, before reversing, and heading directly for the 100-day EMA, a prudent guidepost when none other exists. Fast forward to last week, and we saw the market stalling once again. Treasury managers were doing their thing, hedging their forex exposures, while traders closed open positions before Good Friday.
The question is will the euro fall this year to the 100-day EMA again, as if on cue? Fundamentals and political pressure support a decline, but there will be resistance, as indicated by the prominent Kumo cloud and diagonal support line. The odds may be setting up for a post-holiday trend, after all.
In the forex world, all markets will not be shut on Good Friday and Easter Monday. There will be some activity somewhere, but liquidity will be strained. Are there other extended holidays? Ever heard of Boxing Day?
By Tom Cleveland, Contributor, ForexTraders.com